Anime Face Anatomy – Learn all about Structure and Design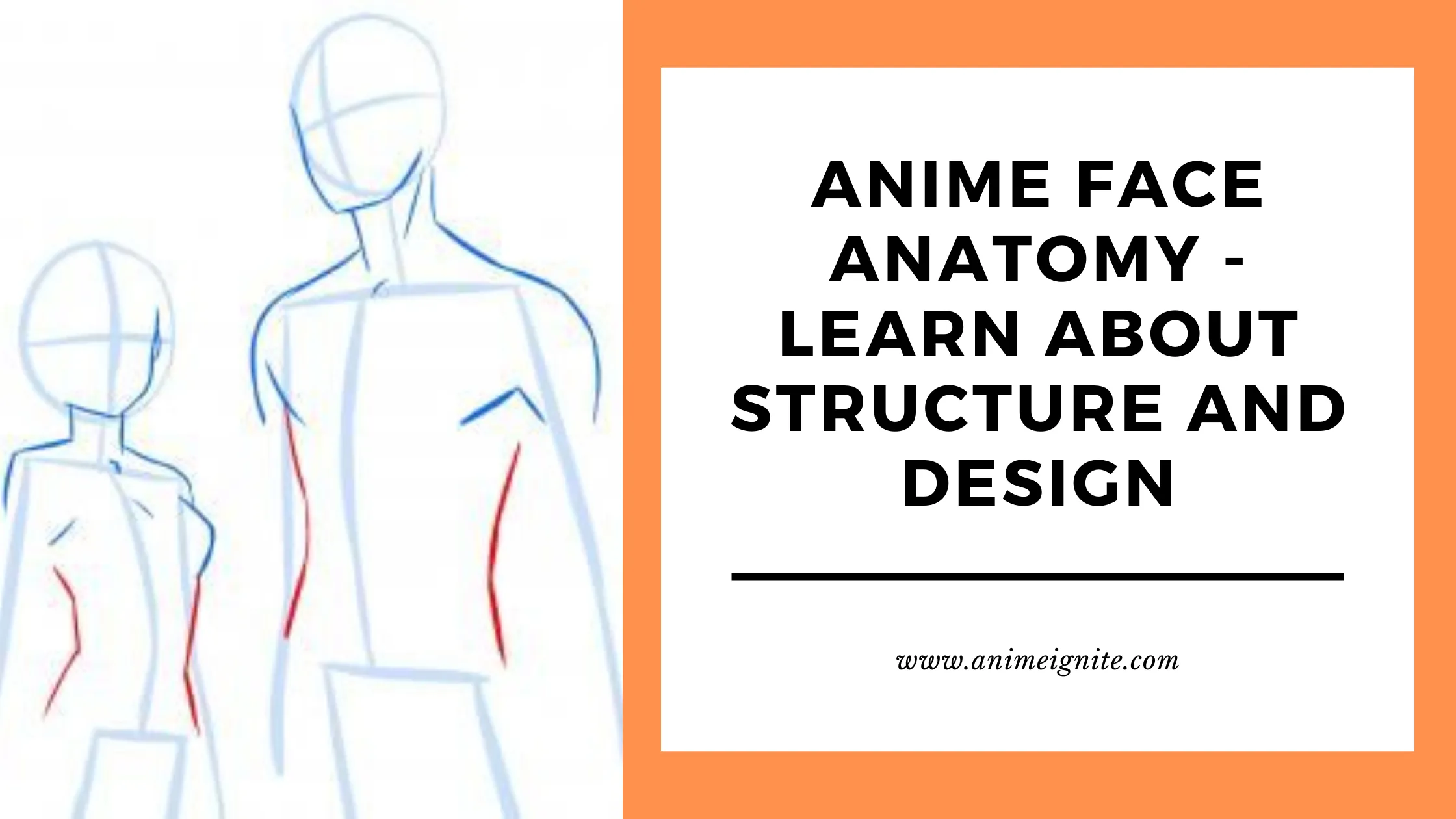 [et_pb_section fb_built="1″ _builder_version="4.7.7″ _module_preset="default"][et_pb_row _builder_version="4.8.1″ _module_preset="default" hover_enabled="0″ sticky_enabled="0″][et_pb_column type="4_4″ _builder_version="4.7.7″ _module_preset="default"][et_pb_text _builder_version="4.8.1″ _module_preset="default" hover_enabled="0″ sticky_enabled="0″]
Anime Face Anatomy – Learn all about Structure and Design
[/et_pb_text][et_pb_text _builder_version="4.8.1″ _module_preset="default" hover_enabled="0″ sticky_enabled="0″]
Sketching the perfect anime face requires you to know the facial anatomy! While many think that anime face anatomy is something new, it is the same as real human face anatomy! Yes, you are reading it correctly!
It has come from professional people's perspective at sketching manga, anime art, and comic books. So it means that anyone who understands the basic human face anatomy can easily master the art of anime sketching.
To make it easier for you, we have discussed some of the tips given by some pro anime artists.
[/et_pb_text][et_pb_text _builder_version="4.8.1″ _module_preset="default" hover_enabled="0″ sticky_enabled="0″]
Drawing Basic Male/Female Anime & Manga Face
Anime and Manga art is all about facial expressions and structure. So hence, it means that you can't be a pro anime and manga artist without drawing the perfect face. Don't panic, as no one is born a pro artist.
If you are not good with the face structure and design, then you are not alone. You can easily draw a perfect anime face using basic shapes such as the oval, circle, square, and even triangles. Most anime artists usually start drawing the anime face with the help of a rough oval or circle.
Whyt Manga is a known anime & manga artist who has illustrated how you can draw basic male/female anime face with the help of oval/circle.
It is one of the most easier techniques. This technique can be used to draw any kind of face shape irrespective of gender. You must be wondering how to get the jawline, ears, eyes, and hair with just one circle/oval? Well, you need to draw more than just a circle.
The circle only gives you a basic idea to get the jawline and hairline. Make sure that you draw a curvy jawline. Also, don't draw the chin too pointy. Keep the anime face anatomy close to real human face anatomy as much as you can.
To make a face look more realistic, add some organic lines on lips, near chin, forehead, or around the eyes. Also, pay close attention to eyebrows and eye shape.
[/et_pb_text][et_pb_text _builder_version="4.8.1″ _module_preset="default" hover_enabled="0″ sticky_enabled="0″]
Draw Anime Face from Different Angles
No matter what angle you choose to draw your anime character's face, some basic guidelines help. A well known, professional anime/manga artist, Lizbeth R. Jimenez – My Mangaka Life – explained the useful guidelines for sketching the perfect anime face.
These guidelines allow you to draw the whole face in a symmetrical pattern. Moreover, when you use the guidelines to draw, you can draw any anime face irrespective of age and gender.
Also, the guidelines help you with almost all the face shapes. So without further ado, let's discuss what these guidelines are. Whether you are drawing a male or female anime face, start by drawing a circle followed by an oval down the circle. The oval will be for shaping the jawline.
The next step is to draw a vertical line in the centre of the face down the chin. This is the trick for getting the symmetrical face sides (eyes, nostrils, etc.) Use the half, half, and half rule, i.e., to draw three horizontal lines, each one for eyes, nose, and mouth.
Another trick to get the eyes right is to draw two ovals and an imaginary third eye to get the right distance. To draw the mouth, keep in mind that each lip corner comes under the middle of the eye.
The last guideline for anime face anatomy is to draw the ears, use the line for eyes and nose to draw the ears as they come between these two. All these guidelines act as a checklist. So do use them.
[/et_pb_text][et_pb_image src="https://animeignite.com/wp-content/uploads/2021/02/de99maa-cd9fd280-85ac-4def-8174-73925cf255ff.jpg" alt="Anime Face Anatomy" title_text="Anime Face Anatomy" _builder_version="4.8.1″ _module_preset="default" width="76.9%" custom_margin="|117px||||" custom_padding="||1px|||" hover_enabled="0″ sticky_enabled="0″][/et_pb_image][et_pb_text _builder_version="4.8.1″ _module_preset="default" hover_enabled="0″ sticky_enabled="0″]
Drawing Anime Head Using Three Division Method
There is more than one way to draw anime faces. One such method is to divide the head into three parts illustrated by Robert Marzullo. This method can be used to demonstrate the face from any angle. Furthermore, this technique can be used to draw a pencil as well as digital anime art.
Just like most of the methods, the three-part method also uses a rough circle. The trick to get the perfect anime face anatomy is to divide it into three parts, both horizontally and vertically. While drawing the anime character using this technique, keep one thing that you don't have to be perfect.
Extend the middle vertical line down the circle. By doing this, you will get three sections – one for eyes, one for nose & mouth, and the last one for the jawline. The top line will also act as the hairline for the head.
Outline the head and cheekbones, attaching them to the jawline. You can also divide the bottom section into three sub-sections as well for the lower facial features. With some slight changes, you can easily draw the male/female anime face from any angle.
The three-section technique gives you the idea of the eyes, nose, ears, position, and mouth. Not only this but also these lines help you with the distance between the eyes. The last but not the least benefit of the three-part technique is that the anime face has the perfect symmetry.
[/et_pb_text][et_pb_text _builder_version="4.8.1″ _module_preset="default" hover_enabled="0″ sticky_enabled="0″]
Summing Up the Whole Discussion
When you are sketching anime art, whether digitally or from pencils, you don't need to be perfect, plus, there are no strict rules for anime art. All you need is to take a pencil, paper, and a reference image to start testing your skills. Let your hands flow without fear or any mistakes.
Because, because to get is the face structure and design. However, when you use the basic guidelines like dividing the head into three sections or using shapes such as oval. Triangle, circle, etc. – it gets easier. Another great way of improving your anime or manga art is to post your sketches on anime art communities on Reddit.
You can also find drawings there to get inspiration. If you are an anime artist with some useful tips to help beginners pave their path, please feel free to share in the comment section. If you want your anime art to get noticed, post it to anime ignite and get people to love it.
[/et_pb_text][/et_pb_column][/et_pb_row][/et_pb_section]