Anime Recommendation of the Week – Horimiya
I started watching this anime back when it was airing on a friend's recommendation. Back then I never even thought that I'd end up loving this anime so much. I never really forgot this anime after that, after all, I still have this anime's opening as my ringtone. Yes, we are talking about one of the best romcoms this week, Horimiya.
Welcome back to another edition of our weekly anime recommendation series! This week we are talking about an anime really close to my heart, Horimiya. I have a lot to talk about this week, so let's just get started.
Introduction
Horimiya is the anime adaptation of the manga of the same name. The name "Horimiya" would extent to "From Hori-san to Miyamura Kun". The manga is written by HERO and illustrated by Hagiwara Daisuke. The anime is 12 episodes long and it aired from 10th January 2021 to 4th April 2021. It is animated by CloverWorks and you don't have to worry about a second season because the story is actually over in this season itself.
Horimiya is hands down one of the best rom-com anime out there. I really like that the story does not extend more than necessary. It also leaves the ending open to all sorts of speculation. The story itself is nothing special but the lovable characters, the comedy and the pacing make it great.
Plot
Horimiya has your typical romance anime plot. Both the main characters, Hori-san and Miyamura meet by chance and start getting closer. Miyamura is a loner but he is badass. Hori-san may look cute but, she is a badass herself. After they meet though, things proceed like a normal romance anime. There are a lot of differences though; they do all sorts of weird and awkward stuff for each other. If you've been in a relationship, you will probably find it relatable.
As I said, the plot itself is very simple. This simple plot gives the author room for inserting all sorts of details and funny stuff though. Trust me, the author uses this room really well. The pacing is just perfect too; it is fast but not too fast.
Characters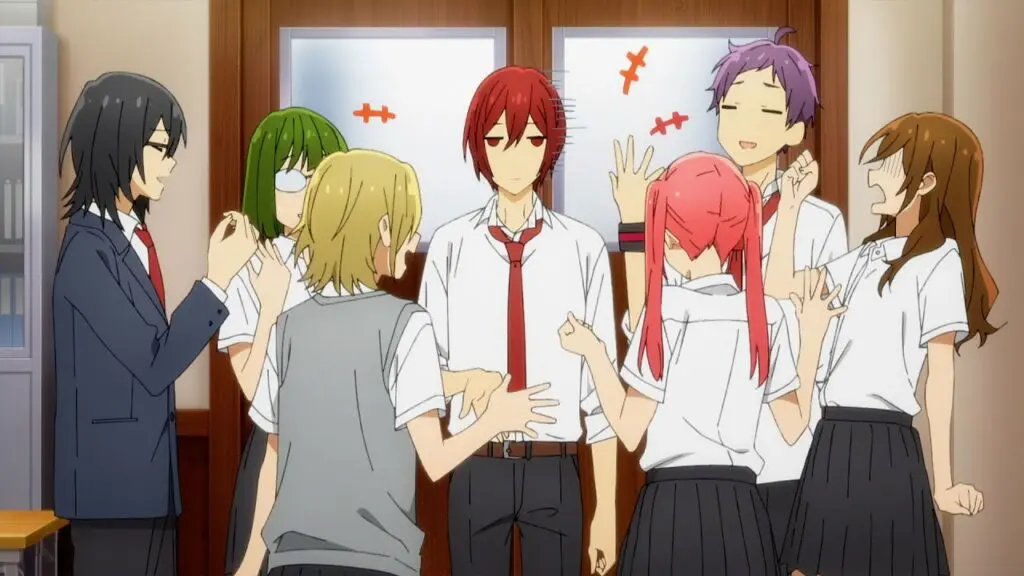 The author did an awesome job here. Horimiya doesn't have that many characters but, the few it does have treats them well. Everyone has different backstories that define their character and their relationships. The backstories are surprisingly detailed as well. All that and Horimiya's key selling point, the dynamic between Miyamura and Hori-san makes for a really entertaining mixture. The interactions between all characters are really well done and it is something I will always remember this series for.
Animations and Soundtracks
CloverWorks did an awesome job on the animations. Great animation quality; I really like Horimiya's art style as well. All the character designs are great and non-generic for the most part. As for the soundtracks, I really love the opening and the ending themes. Both of those were animated really well too.
Why should you watch Horimiya?
Quick pointers on why you should check out this anime:
Simple plot
Short and conclusive
Great characters
Really funny
Somewhat relatable
Conclusion
That is all for now. Let me know what you think in the comments. Horimiya is a great anime and I really recommend that you check it out. It is also worth a rewatch in my opinion, I still have it on my laptop. There is also this new movie by WIT Studio that I think you should keep an eye out for. With that said, I will take my leave here. See ya!