Black & White Anime Art – Four Cool Ways to Do It Yourself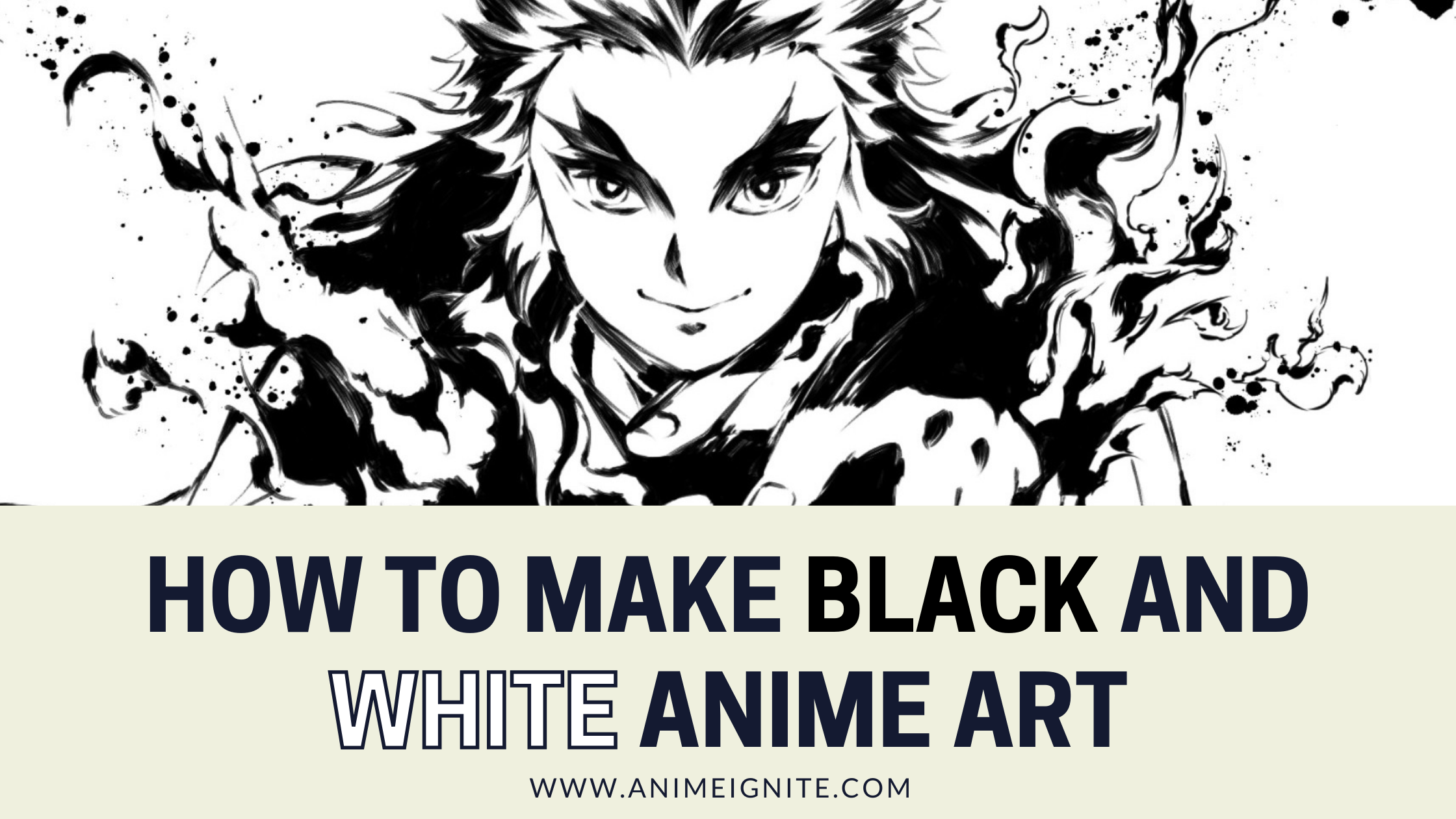 [et_pb_section fb_built="1″ _builder_version="4.7.7″ _module_preset="default"][et_pb_row _builder_version="4.7.7″ _module_preset="default"][et_pb_column type="4_4″ _builder_version="4.7.7″ _module_preset="default"][et_pb_text _builder_version="4.7.7″ _module_preset="default"]
Black & White Anime Art – Four Cool Ways to Do It Yourself
[/et_pb_text][et_pb_text _builder_version="4.7.7″ _module_preset="default"]
Black and white sketching or monochrome drawing has always been one of the famous art forms. One can draw absolutely anything using just black and white colors. However, these days the black and white anime art is a sensation on the internet. People are using anime drawing to showcase their talent, but many businesses use it for marketing their brand.
When it comes to creating fine and up-to-the-mark anime art, there are many professional Skechers. But they all were beginners at some point. With time and practice, they mastered their skills. Hence, if you love sketching black and white anime art and learning how to do it, you have landed on just the right web page. This article has shared four ways that some famous anime artists use to make their drawings.
[/et_pb_text][et_pb_text _builder_version="4.7.7″ _module_preset="default"]
Learning The Basic Anime Anatomy
In the video "how to draw Anime – Basic Anatomy," you will learn how to correct your anime character's anatomy. The illustrator used a uni pin, micron outliner, and a foot scale to draw a perfect anime sketch. The illustrator uses basic shapes and vertical, horizontal lines to sketch symmetry.
The video is about drawing the anime art in a step-by-step technique. If you are a beginner anime artist, this video is a help. In this video, the artist starts his sketch from a rough circle that will be the character's face.
The illustrator uses vertical and horizontal bisect lines to correct the basic anatomy of the face. In the video, the artist uses a soft/light pencil mark to draw the outlines. Black and white anime art drawings get easier when drawn using the lines.
In the video, you will notice how easily the artist gets the idea of the ear, eyes, nose, and mouth of the character using the lines. The artist is using uni pin and micron outliner because these are the right tool for beginners.
When drawing black and white anime art, keep erasing the rough lines before moving to the next part. Also, this video shows that it is essential to darken the sketch outlines as well. Once you can master the facial anatomy, you can quickly draw any kind of hairstyles.
[/et_pb_text][et_pb_text _builder_version="4.7.7″ _module_preset="default"]
Reference Images Are Helpful
One of the biggest misconceptions of beginner anime artists is that they can reinvent the wheel. Though it's possible for other art forms, it's not the case for manga or anime art drawings. Creating your style is only possible by modifying the character's face, dress, hairstyle, background, or motifs.
So hence to create your anime masterpiece, you need to gather reference images. You can make a collection of anime images by the artists you admire or from anime cartoons such as Naruto, one-piece, and many more.
You must be wondering how reference images help you to improve your art? With these reference images, you can define your own style and modify certain elements. When you have a collection of anime reference images, you will never run out of inspiration and ideas for your next drawing.
So never hesitate to gather reference anime art images to fuel up your drawings.
[/et_pb_text][et_pb_text _builder_version="4.7.7″ _module_preset="default"]
Drawing Anime Art with Just One Pencil Is Possible
The video "How to draw Anime "Using only ONE pencil," Part I" clears one of the biggest misconceptions that you always need different pencils to create one anime sketch. Many beginners end up spending hundreds of dollars bills on expensive pencil sets.
However, in reality, you only need one or two HB pencils. And it is precisely what is shown in this video. In this video, the artist uses just one pencil to draw, shade, and highlight the whole sketch. It is a beneficial tutorial as it also provides tips to draw and correct the basic outlines of the drawing.
The artist uses a 3B graded pencil to draw, shade, and highlight the sketch's details. The video summarizes that it is possible to highlight the black and white anime art without mechanical pencils or highlighters. And you don't need to buy expensive tools to become an Anime Artist!
[/et_pb_text][et_pb_text _builder_version="4.7.7″ _module_preset="default"]
The Do's And Don'ts of Anime Art
Though it looks easy, drawing an anime character's eyes is one of the most challenging steps. And unless you know the right and wrong of eye sketching, you will always be confused. Therefore, watching the "Dos and Don'ts in drawing anime eyes" is a must for you.
In this video, the artist uses a comparison technique to explain the right and wrong way to draw an anime eye. On the left, she draws using the wrong way. The right side describes the correct way to sketch a perfect anime eye is.
Such type of comparison videos on dos and don't help the beginners to understand the basics. The artist stresses using light and soft pencil outlines when sketching black and white anime art.
[/et_pb_text][et_pb_image src="https://staging2.animeignite.com/wp-content/uploads/2021/01/pexels-khairul-nizam-16516-scaled.jpg" alt="Black and white anime art guide" title_text="Black and white anime art guide" _builder_version="4.7.7″ _module_preset="default" width="76.9%" custom_margin="|117px||||" custom_padding="||1px|||"][/et_pb_image][et_pb_text _builder_version="4.7.7″ _module_preset="default"]
Drawing Different Anime Faces For Beginners
For beginners getting the face shape right is challenging. However, if you know the basic guidelines, you can use them to draw different face shapes.  You can use any pencil, but uni pens are most comfortable, even for beginners.
There are two ways to sketch any anime face shape. One is through a circle, and the other one is using the letter T. It doesn't matter whether you are sketching a girl or boy character. Your hairstyle and clothing will decide your gender. In the first method, you have to draw a circle.
The circle doesn't need to be perfect. After the circle, draw one vertical line and two horizontal lines – in the cross-sectional shape. These outlines will help you get the lower face shape and top face.
In the second method, you draw a T and then divide the lower vertical line from the middle to another horizontal line. This structure will be used to illustrate the lower face. Use the lower horizontal line to draw the top face.
Mark a horizontal line from the distance from the lower line. You can use either method to draw a circular, triangular, diagonal, or any kind of anime face.
[/et_pb_text][et_pb_text admin_label="Text" _builder_version="4.7.7″ _module_preset="default"]
Join The Anime Art Communities!
Anime art is considered one of the highest forms of human imagination. It is a unique form of art used to express all human emotions and convey a message most effectively. Being able to create a series just with your imagination is astonishing.
Some people think that black and white anime art is effortless and simple to draw. However, the reality is quite the opposite. Anime artists have to face many challenges. Every artist needs to develop a unique style and theme to keep their artwork unique from the others.
Just like any other artist, anime artists take inspiration from day-to-day life. But sometimes, even they ran out of ideas as well, which is why anyone who wants to take anime inspiration must join the anime art communities.
These communities are created to share and cherish the anime artwork. These help you get the inspiration as well as there you can find the tips on how to become a better anime artist. Do you think that watching a youtube video or joining a community is helpful to improve anime skills? Leave a comment below to share your thoughts and recommendations with us.
[/et_pb_text][/et_pb_column][/et_pb_row][/et_pb_section]