Famous Anime Band EGOIST Disbands
Key takeaways from EGOIST disbading news:

EGOIST began as a duo for the anime "Guilty Crown," with Ryo as the composer and Chelly chosen from thousands to be the singer for the character Inori. Their debut single "Departures" gained attention.
The success of "The Everlasting Guilty Crown" propelled EGOIST's popularity. They contributed to various anime, including "Psycho-Pass," "Fate/Apocrypha," and "Kabaneri of the Iron Fortress," solidifying their impact on anime music.
EGOIST announced their disbanding, with final concerts in September and October. Ryo may return to Supercell, while Chelly will pursue a solo career as "Reche." Despite their recognition, the group chose to part ways, marking the end of an era in anime music.
Man, I didn't expect nor did I want to see this news when I woke up today. EGOIST is such an iconic band when it comes to anime or J-pop music in general. It is sad to see them disband after all these years and some really good soundtracks.
I know that they were originally meant to be together for only one project, Guilty Crown so I am glad that they managed to stick around for a decade. But it still hurts to see them go like this. Today has been full of bad news, one of my favorite wrestlers passed away today as well. He was just 36 years old.
But that is not what we are here to talk about. We will start with how the band EGOIST formed and then move on to the news regarding their disbanding. So let's start.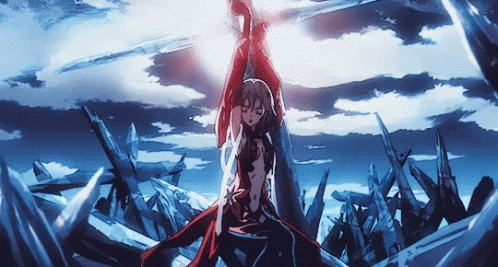 How the band EGOIST came to be?
EGOIST is a duo of the composer Ryo and the singer Chelly. The band was originally created to be featured in Guilty Crown. Chelly was chosen among 2,000 contestants to play the role of Inori in the songs. If you recall, the band is featured heavily in the anime as well. Their debut single was the first ending theme of Guilty Crown, Departures. Then came the song that propelled the anime and the band into popularity, The Everlasting Guilty Crown. I think it is fair to say that Guilty Crown was single-handedly made popular by that one song.
That song was so successful that the duo decided to stick together for a bit longer. They would then go on to make a few albums and give their music to anime like Psycho-Pass, Fate/Apocrypha, Kabaneri of the Iron Fortress, and more recently Build/Divide.
About the disbanding…
They announced earlier today on their website that Ryo and Chelly are going their separate ways. Their last concerts will be on September 23rd in Osaka and on October 9th in Kanagawa. Ryo will likely be going back to Supercell, and Chelly will continue as a solo artist under the name "Reche". No reason for the disbanding was officially announced, although many people including me believe this was done because the group had run its natural course. I wish Chelly the very best for her solo career. I hope it is just as successful as EGOIST eventually.
Conclusion
So yeah, that really sucks. I know the group had gotten kind of stale lately will Build/Divide but I still think they could have made a glorious comeback. There are not many anime artists as instantly recognizable as EGOIST so I am really sad to see the band go. But they know better and I really hope that they made the right choice here. Let me know what you guys think in the comments. I will take my leave here. See ya!
Check out some Fall 2023 recommendations here!