Faraway Paladin, Anime Recommendation!
This anime really surprised me back when it came out. Sure it falls off after the first 5-6 episodes but it is still an anime worth watching, even if it is for those first few episodes. This is definitely one of the strongest isekais that came out last year. I talked about it a little bit in my The Eminence in Shadow article so I thought why not talk a bit more about Faraway Paladin today?
So welcome back to another edition of our anime recommendation series! This week we are talking about Faraway Paladin or Saihate no Paladin. It is an awesome isekai fantasy that everyone should watch at least once. With that said though, let's get right into it.

Introduction
Faraway Paladin is based on the LN of the same name by Yanagino Kanata and Rin Kususaga. The anime is 12 episodes long with a 2nd season confirmed. It is made by "Children's Playground Entertainment", no I am not making that up. And it came out in the fall season of 2021. Now as I said in my The Eminence in Shadow article, this series has one of the strongest intro arcs in isekais. So let's talk a little more about that.
Plot
Faraway Paladin follows the titular Paladin, Will. See this guy is someone who died and then reincarnated as a baby in an isekai. Not just any baby, he was a baby being raised by 3 undead "parents". As he grows up, he starts to wonder how he got there and why there is no other human in sight. In his search for answers, he learns about the past of his parents, how they came to their current conditions and how he came into their possession.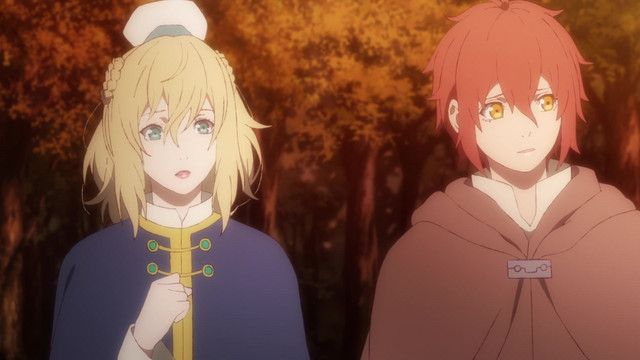 One thing that I really appreciate about Faraway Paladin is its world-building. Right off the bat, the anime tells you how the magic system in its world works, how many gods are there, what god does what and how people gain "powers" from the gods. Seriously, even after the plot slows down from episode 7 onwards, the world-building still remains good. And then the absolutely beautiful pacing of the first 6 episodes is just the icing on top of it.
Characters
Again, this is one of the cornerstones of Faraway Paladin. You'd be hard-pressed to find as compelling characters as the undead parents in a generic isekai anime. Not only that, they really did work hard on Will too. I didn't expect his character to grow on me as much as it did. And what I like more about him is that he's a very curious type of guy and asks a lot of questions. Now, this provides a good trigger for world-building. Aside from them though, the other characters are ok. I really like that one kid they meet on their journey though, she's awesome.

Animations and Soundtracks
Faraway Paladin has some pretty decent animations. Not too good, not too bad. I like the art style, some design preferences I don't find appealing but some character designs really go look pretty cool. As for the soundtracks though, some of the BGM is pretty epic and I really used to like the ending theme as well.
Why should you watch Faraway Paladin?
Some quick pointers on why you should check out this anime:
Awesome plot
Well-paced
Great characters
Good world-building
Great fights
Conclusion
Well, that is all for now. Faraway Paladin is a surprisingly good anime if you give it a chance. As I said, you definitely should watch the first 5-6 episodes if not the whole thing. Let me know your thoughts in the comments though. I will take my leave here. I am a bit behind schedule today. See ya!!