Gantz, Manga Recommendation of the Week!
I read this manga a while ago and while thinking of a pick for this week, this name randomly popped into my mind. So here we are. Gantz is not your super high IQ story manga or something, it is something very much along the lines of Darvin's Game or Record of Ragnarok. It gets creative with its setting and has some really awesome set pieces to offer. I am sure a lot you will enjoy it.
So welcome back to another edition of our manga recommendation series! This week we are talking about Gantz. It is a mostly action-oriented manga but with a good mix of psychological horror and thriller thrown in to keep things interesting. So let's get started right away!

Introduction
Gantz is written and illustrated by Hiriya Oku. It is 383 chapters or 37 volumes long. The manga was published in Shueisha's Weekly you jump magazine from June 2000 to June 2013. It has 26 episodes of anime adaptation by Studio Gonzo. I have not watched the anime, so I won't comment on it. Gantz also has 2 spin-off mangas, Gantz:G and the ongoing Gantz:E.
Plot
The story follows Kei Kurono, someone who despises other humans because of the cruelty they're capable of. One day, he sees his classmate Masaru Katou jump in front of a subway train to save a drunk man. He jumps in to help him too, they manage to save the man but are hit by the train. They find themselves in a room with a lot of other people who also claim to have died recently. A black sphere called "Gantz" instructed them to kill a creature with the gear provided and it will allow them to return to their previous lives.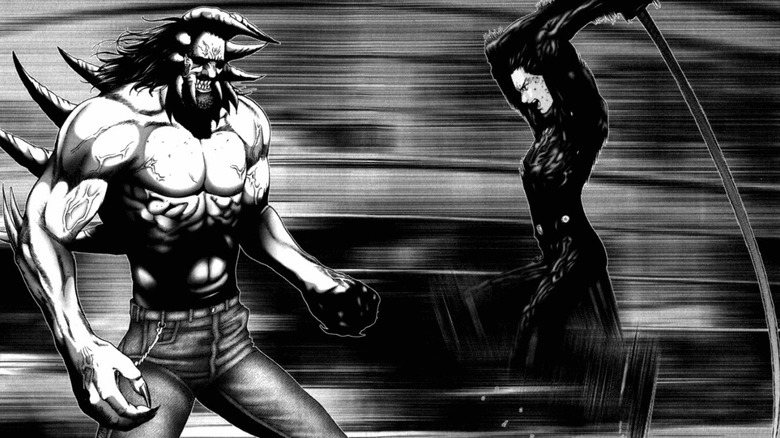 There is one condition however, they may be summoned to kill another such creature at any time during the day. While Katou dreads returning to the Gantz, Kei finds his calling in it. The plot progresses as Kei becomes more and more attached to the "contracts" as his "secret life" starts bleeding into his real life.
Characters
Kei goes a drastic character development throughout the series. From despising humans, he goes to fight for them. Yes, he isn't doing it for others per se but what he does is helping others so… Katou is a good compliment to him, unlike Kei he dreads going back to the Gantz knowing full well the dangers the bounties possess. These two combined with a rich cast of side characters make the series really enjoyable.

Art
The art style goes hard, I love the sci-fi elements incorporated in the art style. The character designs are pretty good too and the fights look awesome as well. It is a story about fights, so, of course, the art keeps up really nicely.
Why should you read Gantz?
Quick pointers on why you should read this manga:
Good plot
Great fights
Good characters
Decent art
Conclusion
Well, that is all for now. Let me know what you guys think in the comments. Gantz is a pretty cool manga and you should check it out. With that said, I will take my leave here. See ya!!