He Does not Have any Friends, Manga Recommendation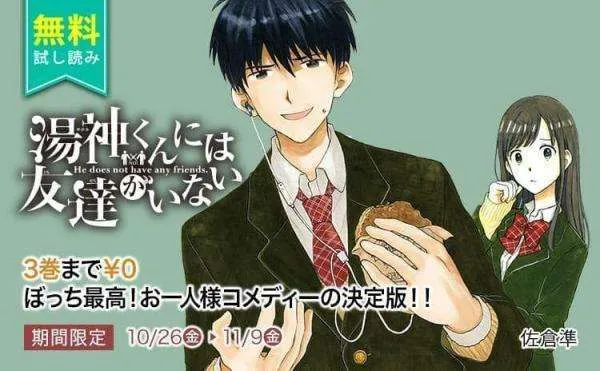 Key takeaways from Manga Recommendation – He Does Not Have Any Friends:

"He Does Not Have Any Friends" is an underrated manga series by Sakura Jun that was published from May 2012 to May 2017.
The story follows a transfer student named Chihiro Watanuki who wants to help her classmate, Yugami, become "normal" and make friends.
The manga has a good plot, great characters, and awesome character development, making it a fun and enjoyable read for those who enjoy comedy and slice-of-life genres.
I am actually quite surprised by how few people actually know about this manga. Even though, it is actually pretty good. Seriously, I looked this manga up on Good Trends and they did not have enough data to display any graphs on it. Yeah, it is that little known. So I decided to pick He Does Not Have Any Friends for this week's recommendation.
So welcome back to another edition of our manga recommendation series! Today we will be talking about Yugami-kun ni wa Tomodachi ga Inai or He Does Not Have Any Friends; whichever title you prefer. I discovered this manga rather randomly and I think it is a pretty fun read. So let's talk about it.
Introduction
He Does Not Have Any Friends is written and illustrated by Sakura Jun. It was published in the Shonen Sunday magazine from May 2012 to May 2017. It is 16 volumes or 81 chapters long. Thie series has no proper anime adaptation to speak, it did get 2 episodes of ONA which was pretty bad. Don't be mistaken, it is more of a comedy SOL than a romance manga.
Plot
Our MC, Chihiro Watanuki is a transfer student. She is helped by a classmate of hers, Yugami while trying to park her bicycle. The class tells her that he is a pain to talk to and does not have friends. And Chihiro thinks so too at first but when he helps her again, she starts to think that there is something more to him than meets the eye. And no she wants to help him become 'normal' and make friends!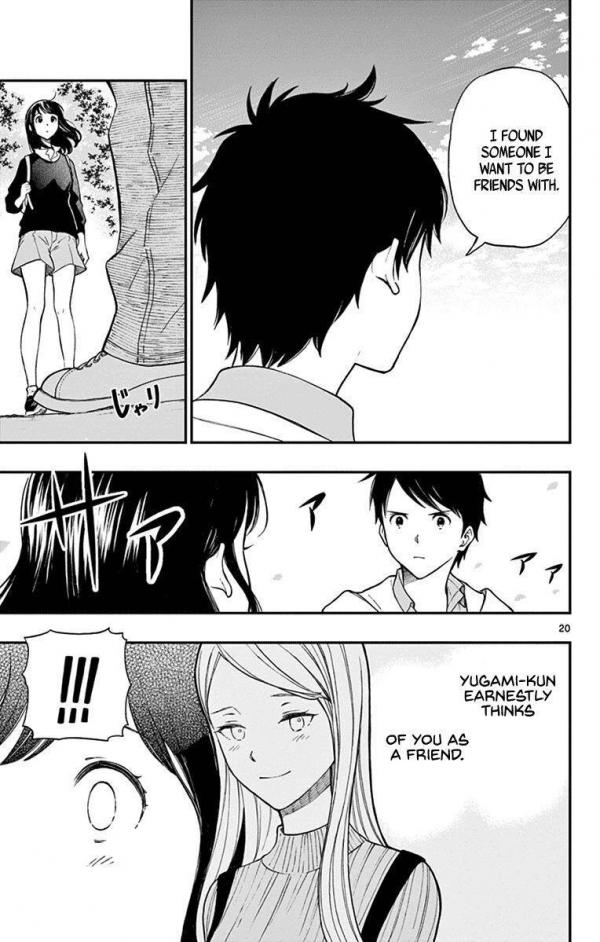 So this is rather similar to Komi-san right? This manga leans more into comedy than Komi-san though and Yugami is a very different character from Komi-san so it feels very different from it. Simple plot but I love its execution.
Characters
Yugami is a really good character. He is this 'I don't need friends' type of guy but later he realizes the error of his ways. He gets some nice character development is does well as a lead character. Chihiro is such a sweet character too; it is her determination that rehabilitates Yugami. The cast of side characters is really interesting too.
Art
The art is functional. It is not too good but more than does the job, it is an SOL comedy, you probably know what kind of art style to expect from it. And it works perfectly fine.
Why Should you read He Does Not Have Any Friends?
Quick pointers on why you should check out this manga:
Good plot
Great characters
Awesome character development
Conclusion
That is all for now. Let me know what you guys think about this manga in the comments. He Does Not Have Any Friends deserves way more readers than it has. It is a truly underrated manga. With that said, I will take my leave here. See ya!