Kaguya Sama Season 3 – Everything We Know So Far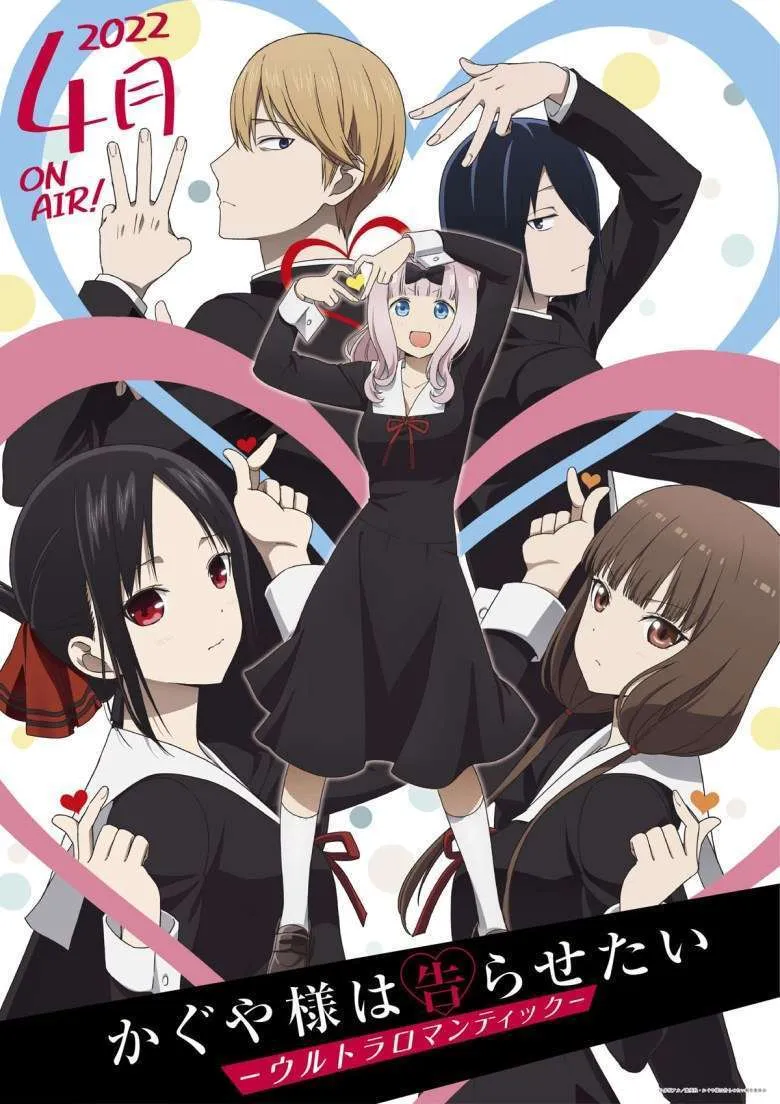 So continuing on with our spring 2022 series, we are talking about Kaguya Sama season 3 this week. We have already talked about Shield Hero and Bubble so far. So check out those articles too if you are interested. But man, Kaguya Sama season 3 will finally be here soon. Feels like only yesterday when season 2 aired.
Kaguya Sama season 2 was better beyond my expectations so I am really curious how the author will follow that up. My thoughts come later though; let's get the news section out of the way first. There is a lot of stuff to cover, so strap in guys!

What do we know about Kaguya Sama Season 3?
So this once we do have a confirmed release date. Yes, not a window, a particular date. Kaguya Sama season 2 comes out on 9th April. There is no official announcement on the number of episodes but I think it will be 12 episodes just like the first 2 seasons. Funnily enough, it doesn't have a confirmed studio yet. But, it should be A1 Pictures just like seasons 1 and 2.
The story will of course pick up from where we last left. All the main staff and cast are reprising their respective roles which is always good. You can check out the teaser PV here. The opening and ending themes and their singers are apparently going to be revealed on March 18th. So I will update this post when the time comes. For now, that is all we know.
Expectations
My expectations with Kaguya Sama are at an all-time high at this point. I am up for another season full of the typical Kaguya Sama fun. I am very happy with what they did with Ishigami's character arc in season 2, and I'd be glad to see something like that again. That said, I won't mind it even if season 3 is all comedy. Because Kaguya Sama's author and staff have a great sense of humor.
There will be serious moments in this season for sure though and I really wanna see them too. Because even when Kaguya Sama puts breaks on the comedy stuff, it is still a great slice of life/ romance anime. For a primarily comedy series, Kaguya Sama sure has some really great character development and I love this series for it.
Spring 2022 should be a great season. We have a lot of great anime coming up. Not just the sequels but, some of the new anime in the spring season also look really good. That is one of the reasons for making this into a series of articles rather than just 1. I have high hopes for Kaguya Sama season 3 man, I really hope they manage to surprise us again.
Conclusion
That is all I have for now. Let me know what you think in the comments. I am really looking forward to Kaguya Sama, it is one of my all-time favorite comedy animes. I've been in bad shape for the last few days but still on the grind…. have a few assignments due too… I… I will catch ya guys later. Y'all take care. See ya!