Lycoris Recoil Review – My Favorite!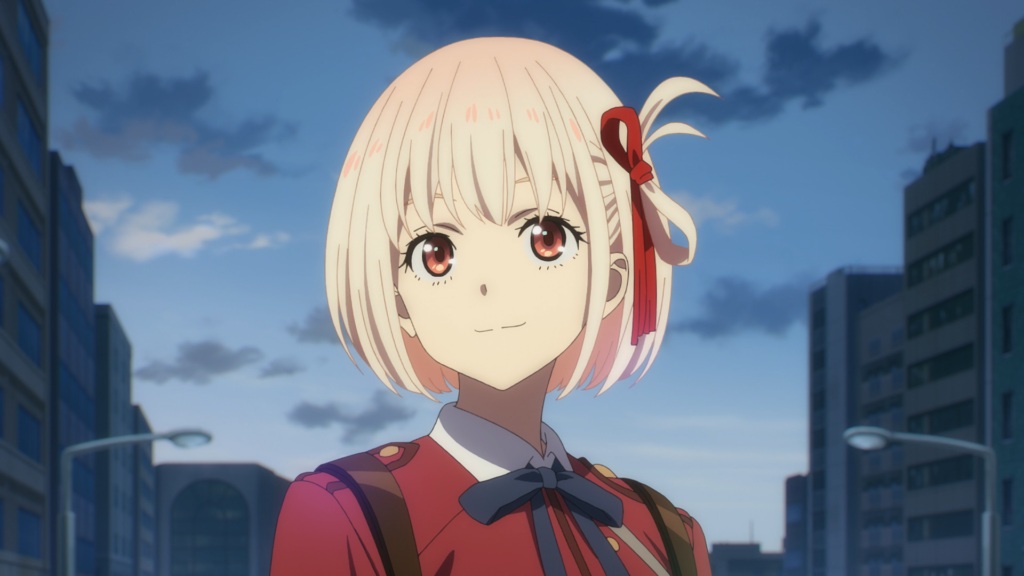 Yup, I said it. Lycoris Recoil is my personal favorite anime from this season. This anime took me on a roller coaster I was not expecting at all. I did not know what I was getting into. I just heard buzzings about this anime and jumped into it. And boy oh boy I never expected it to be this good. I thought it'd be a waifu bait anime, but the plot is also excellent.
So welcome back to another one of my reviews and we are talking about Lycoris Recoil or LycoReco today! And I think it's not far-fetched to say that this was the most surprisingly good anime from the season. None of us expected it to turn out as well as it did. It's been a while since we saw an original anime this good, so props to A1 Pictures for that. With that said though, let's get into some more details.

Plot
Lycoris Recoil is set in a dystopian world where bad things don't exist. Why? Because most criminals are taken down before they can even do anything. This is done by a private organization called DA. DA specially trains teenage girls for this job and these girls are called Lycoris. The story follows a protege Lycoris, Chisato, her past, and her dealings with a criminal, Majima.
Yes, I know the plot sounds very cliche on paper. But, you have to watch this anime to appreciate it. Lycoris Recoil does not shy away from cliches and it adds its own spin on them. The world-building is pretty good and there are more than plenty of plot twists to keep things interesting. LycoReco found a very good balance between action, story, and slice-of-life stuff. This balance is what makes this anime great.

Characters
Now as much as I praise Lycoris Recoil for its plot, I cannot deny the fact that Chisato is still its main attraction. She is one of the most well-written female MCs I've seen. On the surface she appears as a cheerful stereotype, she is really perceptive and smart. The whole story revolves around her past and present dealings so, of course, she gets a lot of character development as well. She has one of the best vocal performances I've seen in quite some time. The VA, Chika Anzai definitely had a lot of fun with this role, her voice is a part of Chisato's charm.
Aside from her, Takina really gets a lot of character development. She starts off as a very serious type but soon understands the true meaning of helping others thanks to Chisato. And then there are Yoshi-san and Majima. I won't spoil anything but holy hell, they're really well written as well. Majima really reminds me of Shigaraki from MHA and that is a compliment.

Animations and Soundtracks
Lycoris Recoil has an amazing art style. The city looks amazing, and the character designs are great. The animations very much follow that, with smooth & fast combat scenes and beautiful SOL scenes. The same goes for soundtracks. The opening and ending themes are awesome and among my favorites from this season. The opening theme is really well animated too. A1 Pictures really outdid themselves with LycoReco.
Conclusion
My final scores for Lycoris Recoil are:
Plot – 8/10
Characters – 10/10
Animations – 9/10
Soundtracks – 8/10
Enjoyment – 10/10
Chisato – 10/10
Overall – 9/10
Well, that will be it for now. Let me know what you guys think in the comments. As always, this is what I thought of the anime, everyone doesn't feel the same so feel free to disagree. With that said though, I will take my leave here, Azur Lane maintenance just ended. See ya!!