MF Ghost, Manga Recommendation of the Week!
Key points for Manga Recommendation – MF Ghost

MF Ghost, by Initial D's author Shigeno Shuuichi, maintains the essence of its predecessor with familiar characters and the same passion for racing.
Unlike Initial D, MF Ghost introduces a richer storyline in a world where internal combustion engines face extinction, adding depth to the racing narrative with a personal quest for the main character.
While character designs may not be a highlight, Shigeno's expertise shines in depicting thrilling racing sequences and detailed car illustrations, providing a visually engaging experience for readers.
I didn't realize MF Ghost was by the same author as Initial D. It's more "professional," yet still has the qualities that make Initial D enjoyable. Better late than never, and the anime adaptation is coming soon.
A few characters from Initial D are present in this manga too but you don't need to watch/read Initial D to enjoy this.
So yeah, welcome back to another edition of our manga recommendation series. This week we are talking about MF Ghost. So let's get started.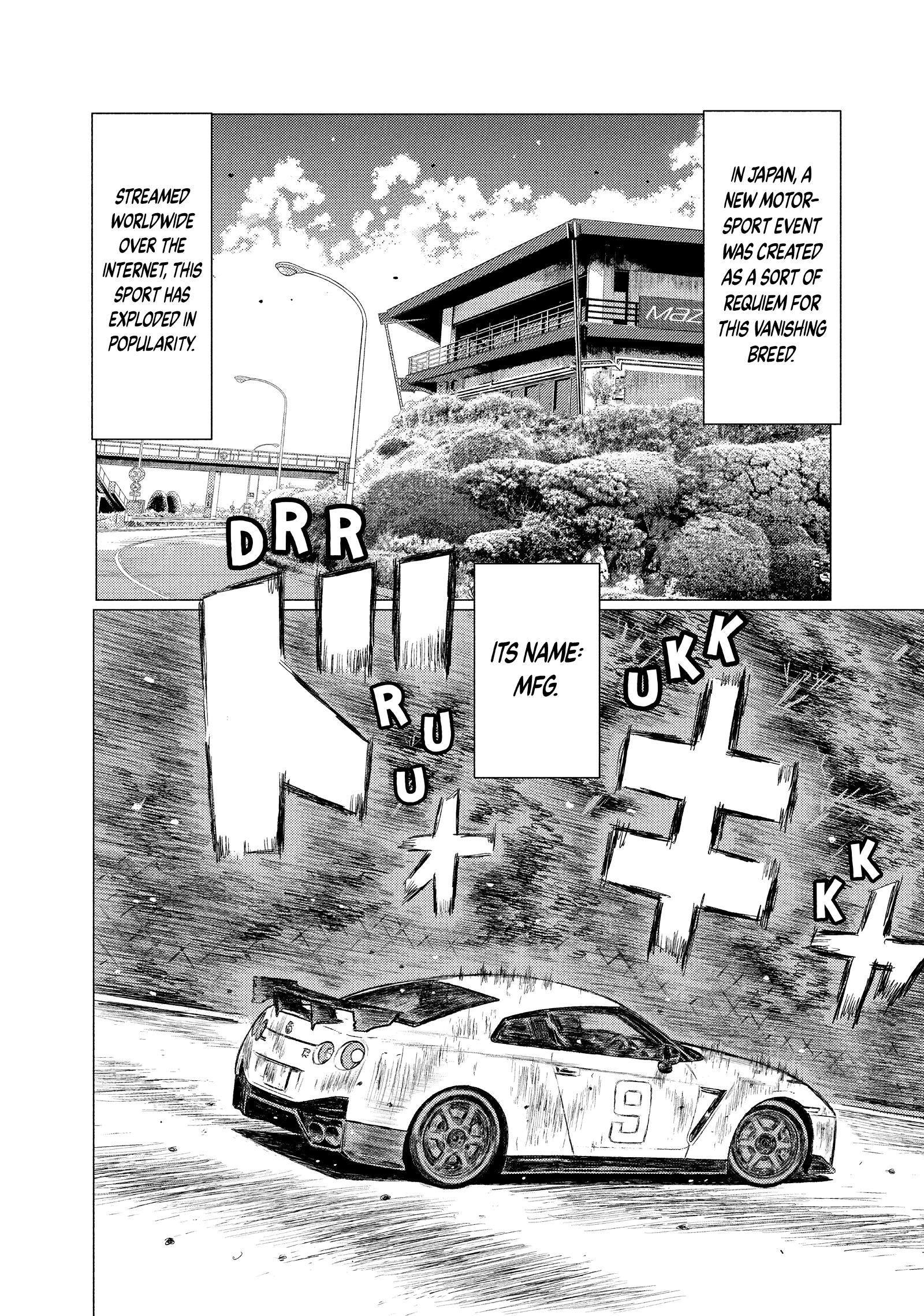 Introduction
MF Ghost is written and illustrated by the same author as Initial D, Shigeno Shuuichi. It has been serialized in the weekly Young Magazine since September 2017 and is still ongoing. It recently got an anime adaptation as well, at the time of writing, the first episode is yet to come out. Its release date is scheduled for tomorrow, 2nd October 2023. But yes, you can watch the anime as well if you are interested in the series.
Plot
This has a little more plot than Initial D. In the world of MFG, fuel cars have largely been phased out in favor of self-driven electric cars. However, an organization called MFG is committed to keeping internal combustion engines alive through races. There is a prize of 10 billion Yen at stake and 300 drivers apply. But only 15 of them will be allowed to compete for the money. Our MC, Kanata Rivington is here to win the competition but to him, it is only a stepping stone in the way of finding his missing father.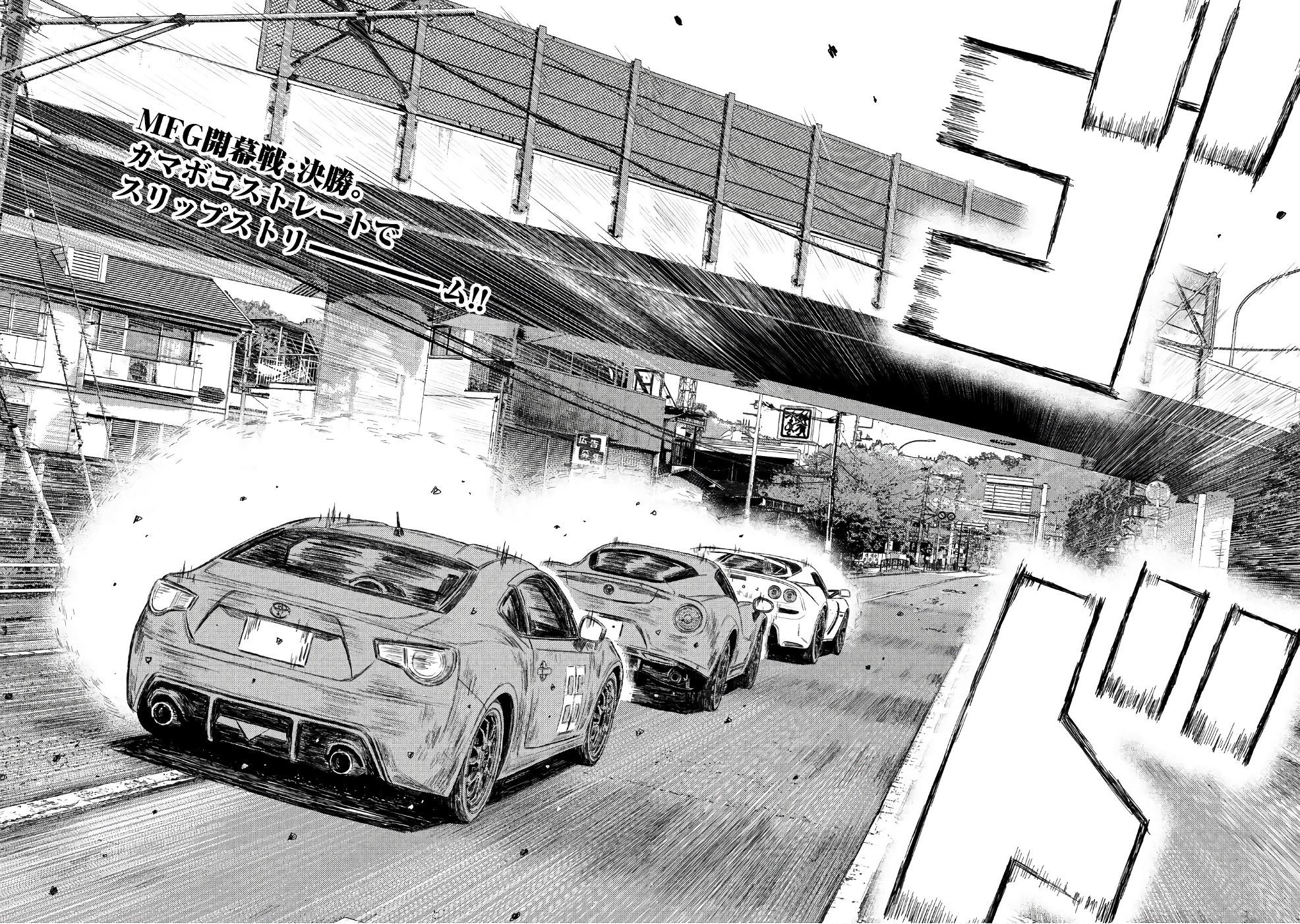 There are similarities to Initial D here, the MC uses a comparatively underpowered car once again, relying on technique to win races. But as I said, MFG has a little more plot there is the whole thing about Kanata's father going missing and all. Other than that, it is your average sports anime plot but it is executed to perfection just like Inital D.
Characters
As I mentioned a few characters we know and love from Initial D are present in this manga too. Felt so good to see Ryosuke here after all these years. Despite their similarities, Kanata is a really different character from Takumi. And I like how it was rumored that Takumi was the one who taught Kanata his technique. But yeah the character work is really on point. Both the new and returning characters are really well done.
Art
Now we know that Shigeno Shuuichi isn't the best when it comes to drawing characters. And I have just accepted that at this point. If I put character designs aside though, the cars and the racing sequences look really good. The art gives you a great sense of motion even though you are looking at still images. Shigeno Shuucihi has always been great at drawing cars and races.

Why should you read MF Ghost?
Quick pointers on why you should check out this manga:
Good plot
Lots of hype
Great races
Nostalgia for Initial D fans
That is all for now!
Let me know what you guys think in the comments. I am about 60 chapters in and I have been thoroughly enjoying MFG so far. With that said, I will take my leave here. See ya!
Check out my thoughts on Ragna Crimson here!