Parasyte, Anime Recommendation of the Week!
Key Takeaways from Anime Recommendation – Parasyte:
A quick intro to this anime
Why you should check it out
---
Ah man, this anime is one of my first animes, which is why it is close to my heart. I was rewatching it recently and man, the nostalgia sure did kick in like a truck. Even though I have grown, my tastes have evolved from back then, but this anime still managed to make me tear up. Parasyte is what Tokyo Ghoul anime could have been if it was a good adaptation.
So welcome back to another edition of our anime recommendation series. This week we are talking about Parasyte. I adore this anime and it is still among my favorites. Yes, maybe I am biased but, this is not a review, this is just a recommendation so that does not matter. With that said though, let's get started.

Introduction
Parasyte or Kiseijuu is based on a really old manga of the same name by Iwaaki Hitoshi. The manga was serialized in the Afternoon Magazine from November 1989 to December 1995. As for the anime, it is made by Madhouse and has one season of 24 episodes and it covers the entirety of the manga. The anime came out in the fall season of 2014.
Plot
So small parasitic aliens that can take over human bodies by literally eating their brains and taking its place, invade earth. These aliens live among humans but, normal food does not work for them. The only reason they live among humans is so that they may eat unsuspecting prey. Our MC, Izumi manages to prevent his brain from being eaten but the parasite starts residing in his right arm instead. The show follows as Izumi tries his best to live and protect the ones he loves in this hostile world.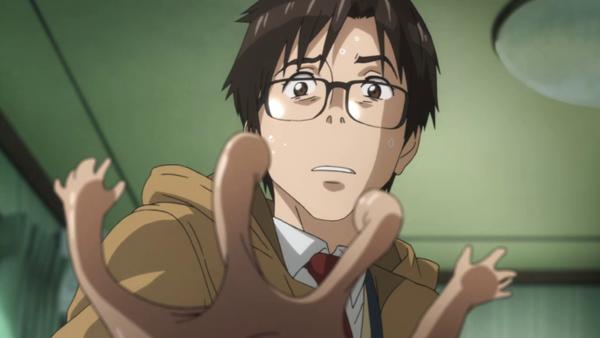 Parasyte has a real plot. Yes, the setting is nothing new but the execution of it hits very differently. I won't pretend this anime is full of unexpected plot twists or anything, it is just that it is executed in such a way that it will always keep you invested. The real reason why this anime hits as hard as it does is
Characters
Parasyte absolutely nailed its characters and character development. Izumi grows from a literal chump to a stone-cold killer and back to being a better human being. We have seen the transition from normal to stone cold in animes before, but Izumi manages to go back to normal again because of what he experiences with Ryouko and Kana. Someone who helps him come back is Satomi. The character relations and how everyone helps Izumi grow in one way or another is really well done and will make you cry on more than one occasion.

Animations and Soundtracks
Madhouse does not miss with their animations and art direction, The soundtracks in this anime are really good too. You don't need me to tell you how famous the opening theme is. The ending theme is really dope too. Great job as always, Madhouse.
Why should you watch Parasite?
Quick pointers on why you should check out this anime:
Awesome plot
Great characters
Amazing soundtracks
Some really good fights

Conclusion
That is all for now. Let me know what you guys think in the comments. I really love Parasyte and it deserves all the praise it gets. With that said though, I will take my leave here. See ya!!