Parasyte – Anime Recommendation of the Week!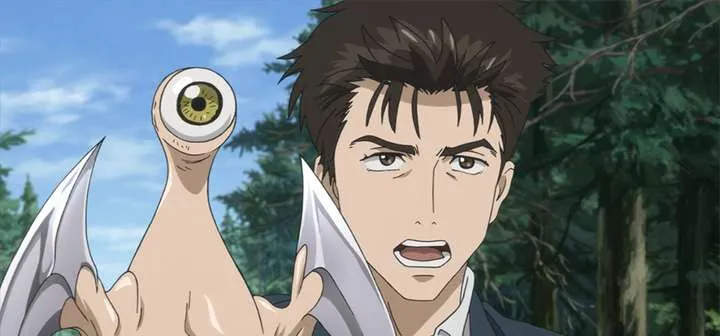 This is one of the first animes I watched. And I still really do like Parasyte, it is rather unique in more than one way. Even after all these years of watching it, I still consider it one of the best animes I've laid my eyes on. This anime really had a strong impression on me. Be it the music, or be it the wild ride that was the story this anime is awesome. It was brought back to my memory when I saw the Korean adaptation news.
So welcome back to another edition of our anime recommendation series! This week we are talking about one of my all-time favorite animes, Parasyte. Yes, that is how it is spelled for some reason but, that is the official spelling so we'll roll with it. I have a lot to say about it so let's just start right away.

Introduction
Parasyte: The Maxim or Kiseijuu in Japanese is based on the manga of the same name by Iwaaki Hitoshi. The manga has been adapted into a lot of different media, including 2 live-action movies in 2014-15 and of course, the anime series in 2014 as well. The anime is 24 episodes long and is made by Madhouse. Aside from that, Netflix announced a Korean-made live-action series adaptation for Parasyte. I personally think the anime is the best iteration of the series, but feel free to check out the other adaptations if those interest you.
Parasyte is an awesomely paced, body-horror action series with elements of romance. The series is full of some awesome and really brutal fights along with some really good character development. It really nails a lot of things down that other anime of this type fail to capture. And of course, since Madhouse made it, the production side is really solid as well.

Plot
As the title may suggest, Parasyte is about alien parasites that have invaded the earth. They take control of a human body and eat other humans to sustain themselves. The main character is also infected by a parasite but it fails to take over his brain which leads to the formation of a symbiotic relationship between Izumi and the parasite in his hand, Migi. The series follows Izumi and how his life changed after the parasites came.
Parasyte has a pretty interesting plot. It gave rise to a lot of stereotypes and templates and it is really well-paced. There are quite a few interesting twists as well but, the plot hinges more on the fights and the character development rather than twists. Which is perfectly fine.

Characters
This is where Parasyte truly shines. Izumi is one of the best developed MCs period. He is this normal, naive high school student when the series starts. But by the end, he is a truly responsible and calm individual. He has seen so much shit by the end of the series that he holds those close to him very dear. I didn't like him initially but, Izumi really does grow a lot throughout the series.
Animations
Parasyte had amazing animations for the time and they still do look really good even today. The manga's art style was really old and it'd look weird to a modern watcher, so Madhouse had a pretty big challenge of changing up the art style without taking the uniqueness away. And they somehow managed to do just that. Aside from that, the OST in this anime is crazy. I love the electronic fight music. And of course, we all know the iconic opening theme of this series.
Why should you watch Parasyte?
Some quick pointers on why you should check out this anime:
Good plot
Awesome characters
Great fights
Great OSTs
Well-paced
Conclusion
That is all for now. I really love Parasyte, if that wasn't obvious, it is a really good series to revisit from time to time. Let me know what you guys think in the comments. And yeah, I will take my leave here. See ya!!