Spice and Wolf is Getting a New Anime!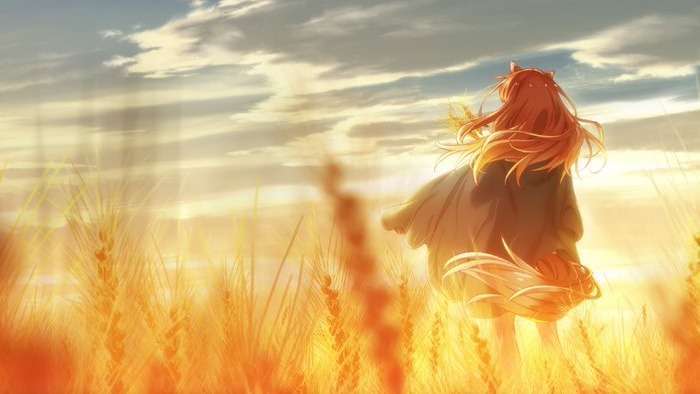 Spice and Wolf is a long-running LN at this point. It is quite popular and for all the good reasons. It also had 2 seasons of anime adaptations that came out in 2007 and 2008 respectively. Which once again was quite a while ago; so this news is genuinely surprising. I am very happy to see that this awesome series is getting more anime content.
Perhaps the best thing about Spice and Wolf is Holo herself; so seeing her return to animation really makes me happy. That said, we don't have much information regarding this so-called "new anime project" just yet. I'll let you know what was announced first, my thoughts can come later.

What do we know about the new Spice and Wolf anime?
This new project for Spice and Wolf was first announced in the Dengeki Bunko, the novel in which the series is published on Friday (25th February). Later, the official Twitter confirmed the same and also posted a teaser visual for this new project. That's all they gave us. No story context, no staff/cast, no studios, and of course no release window.
I expect to see more information about this project soon though because a lot of people have been waiting for a new Spice and Wolf anime now. It has been almost been 14 years since we last had one at this point.
So let's get high on a little copium here.

Expectations and Copium
Ahh, where do I even get started with the amount of copium I have on my hands? First of all, I am really hoping that this is a third season and not a reboot. If it is a reboot, I really hope they keep the same voice actors because they're really fitting for the roles. Aside from that, if they use new voice actors, it is going to feel very out of place to older fans of the series like me. I am fine with a reboot but, I really hope they keep this in mind.
Also, I am really hoping that this is a full season and not a movie. Spice and Wolf isn't really fit as a movie material because it doesn't have many grand battle or story elements. It is about a journey and commerce; that style fits much better in a series than a movie.
Any which way though, I am going to be really happy to see Holo in animations once again. If they give her the proper new animations treatment, she's gonna look better. I am fine with the old animations too by the way; just give me some more Spice and Wolf soon. The series deserves more recognition; hope more people join in after this new anime comes out.

Conclusion
That does it for now. Let me know what you think in the comments. I am really happy that this old series is getting what it deserves for its 15th anniversary. I really look forward to it; I have high expectations but, I can't help but be skeptical because of the recent stuff. I hope that Kadokawa does a good job on Spice and Wolf. With that said, I will take my leave here. See ya!!