Top 5 Anime Art of the Week
This week has been stressful as always man. I was really not well this week on top of that. In all of this mess though, there are things that give us the strength to keep up going. It is very important to have things like that in life. For me those are art and music; looking up some good art can really help you feel better at times.
So welcome back to another week of our weekly art series! We are back again with another 5 art pieces that caught our eyes this week. The list is in random order as always. So let's get right into it.
Hori-san and Miyamura (Horimiya) by majd_hwarin_art
We were just talking about Horimiya last week so it really pleases me to see this art. I really like the colors and the art style of this piece. They grab your attention as soon as it enters your sight. I love the dynamic between Hori-san and Miyamura and this image captures that dynamic pretty well. Check out the original post here and the artist on IG here.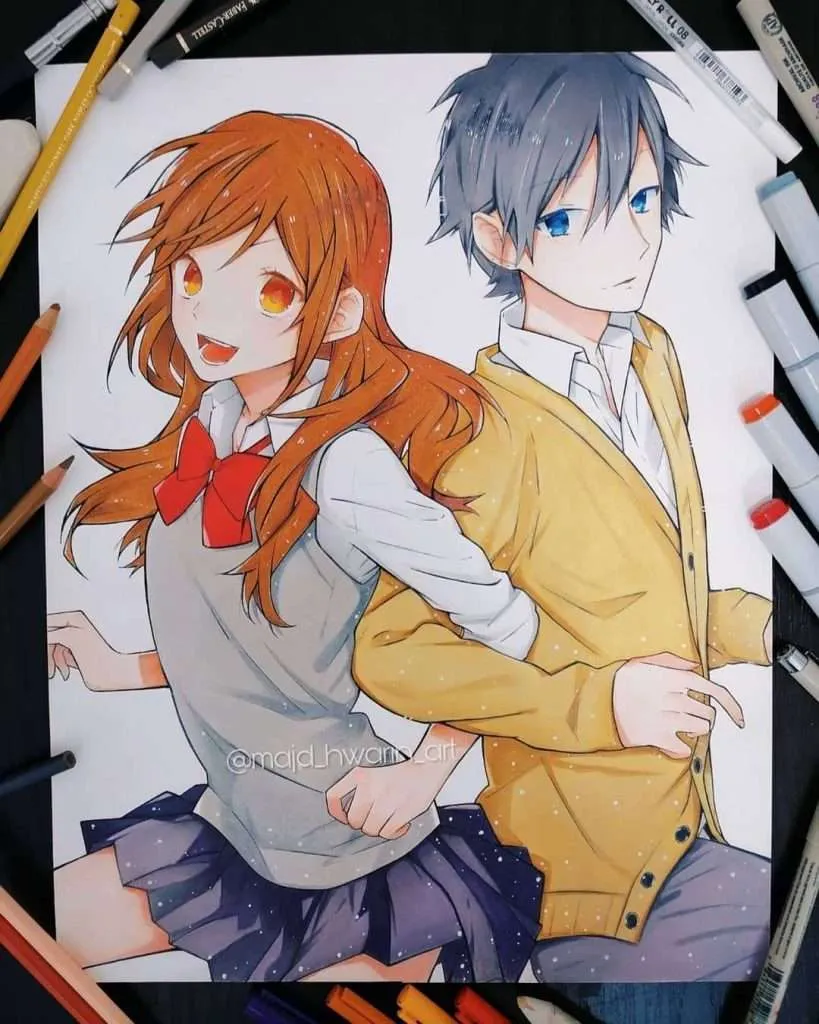 Inumaki Toge (Jujutsu Kaisen) by mughii_art
Inumaki is definitely one of the more interesting characters in Jujutsu Kaisen. I really love his speech pattern, the author found weird ways to get creative with it and I love that. I also really like the idea and concept behind his ability and from the ability, comes his unique look. The tongue and face tattoo looks awesome in this art. Check out the post here and the artist on IG here.
Multiple Characters (Demon Slayer) by sato.xx_chan
Ok, this art looks awesome. So many characters, all in action mode. I really love how everyone's frame is separated by Daki's sashes too, they sure had a lot of trouble dealing with those. It is very different from usual stuff and is very eye-catching. I love it. Check out the original post here and the artist on IG here.
Yami (Black Clover) by fantom.arts
I apologize, I can't put a pic of this art here because the post I'm talking about is a clip. Also, I think I have covered this art before but not the clip so… Well anyway, it is a really cool piece so it doesn't matter. This art piece is just so freaking awesome and one thing I love about these kinds of videos is that it is always satisfying to see the art come together at the end. Check out the video here and the artist on IG here.
Doma (Demon Slayer) by david_x_freeman
I love this guy's new art style. His old art style was good too but, this is just awesome. So Demon Slayer anime onlies may not be familiar with this guy yet, but you will know him soon enough. He is the Upper Two of Muzan's Twelve Moons. Yes, he is every bit as intimidating as he looks. Check out the original post here and the artist on IG here.
Conclusion
That is all I have for now. Dont forget to visit and show your appreciation to the artists as well. This week has been pretty insane, so I'll go rest on a bit now for the next week. You do the same too, have a great weekend and I will take my leave here. See ya!