Koe no Katachi, Manga Recommendation!
Yup, prepare for depression. I will not spare you this week. Well, depression aside, there are a few reasons why I chose this manga this week. We recently talked about Koe no Katachi in an unrelated news article. And because I think people don't give the manga enough credit. Don't get me wrong, the anime is amazing and I personally prefer the anime too. But the manga is a different beat on its own.
So welcome back to another edition of our manga recommendation series. This week we are talking about Koe no Katachi, the manga. I'm sure all of us have watched the movie or at least heard about it at this point. So let's talk about the manga today, it is short and heavy just like the movie. So let's get right into it.

Introduction
Koe no Katachi is written and illustrated by Yoshitoki Oima. It was originally published as a one-shot in Kodansha's Bessatsu Shonen Magazine and later serialized as a proper manga in the Weekly Shonen Magzine from August 2013 to November 2014. Of course, the manga has a really famous anime movie adaptation by Kyoto Animation and it is known for its heavy story centered on repentance. The manga is 7 volumes or 62 chapters long.
Plot
Koe no Katachi follows Shoya Ishida who used to bully a deaf girl, Shoko Nishimiya back in elementary school. Once the bullying came to notice, all of Shoya's friends turned on him, which slowly lead to him becoming a loner by the time he reached high school. Solidifying his resolve one day, he decides to find Shoko and apologize to her. The story follows as both reconcile and come to terms with their past.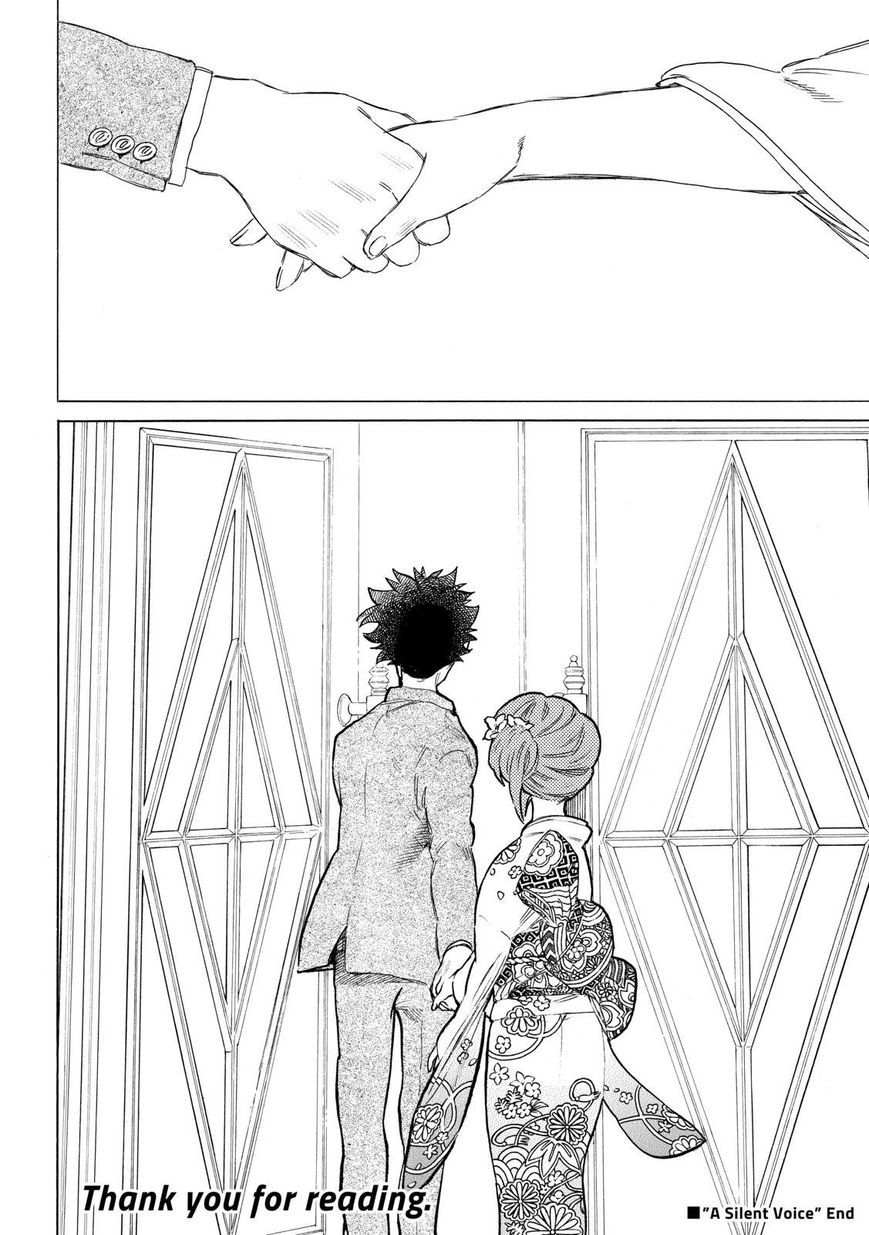 The plot while simple on the surface hides a lot of character development in it. Yes, it is a simple story about coming to terms with your past and it is the characters that truly bring it to its glory. So the plot is amazing because of the character writing. So let's move on to
Characters
Oh man, Koe no Katachi has some of the best character writing in an SOL manga. From Shoya's forced isolation to Shoko's shyness, everything has a reason. Shoya in particular feels so much resentment towards his past self that he basically believes that he is not worthy of making friends. After spending time with Shoko, he slowly learns to let go of his past and his social anxiety. I have grown to appreciate Shoya's character more as I myself have grown more mature. Rewatching this movie with my current mindset hit me way harder than when I watched it 5 years ago.

Art
The art is pretty good. It is subtle and semi-realistic, this combo suits the sensitive nature of the story very much. I like the character designs, Shoko is especially adorable. The art definitely does its part for the story and does a great job of bringing the character writing to life with some beautiful expressions.
Why should you read Koe no Katachi?
Quick pointers on why you should read this manga:
Good story
Great character writing
Really emotional
Good art
depression
Conclusion
Well, that will be all for now. Let me know what you guys think in the comments. And man, Koe no Katachi is just a masterpiece. This manga truly shows that you don't need big grand stories to make something that hits. And hits hard. With that said, I will take my leave here. See ya!!