Gokushufudou, Manga Recommendation!
I read this manga a while back when it was at the peak of its popularity. I just caught back up recently and man, it is still as entertaining as ever. The whole concept of a former Yakuza legend retiring and living out his life as a house-husband is really funny on its own. Gokushufudou got kind of forgotten because of certain reasons; which you probably know if you've been active in the community for a few years.
So welcome back to another edition of our manga recommendation series. This week we are talking about Gokushufudou. An absolutely hilarious manga that a lot of people have kind of forgotten about. This is a shame because this manga entertaining as hell. So with all that out of the way, let's get started right away.

Introduction
Gokushufudou or The Way of the Househusband is a comedy manga written and illustrated by Oono Kousuke. It has been serialized in Kurage Bunch since 23rd February 2018 and is still ongoing. It does have an anime adaptation, 2 seasons if I remember correctly at this point. But, we don't talk about that cause Netflix ruined that adaptation. So I strongly recommend the manga over the anime.
Plot
The manga follows "The Immortal Dragon", Tatsu a (in)famous Yakuza member known for defeating a rival gang all alone with a lead pipe. But now, he is retired from a life of crime to support his wife in her career. The series follows an episodic pattern showcasing different aspects of Tatsu's everyday life as a retired gangsta with constant run-ins with his old friends and rivals.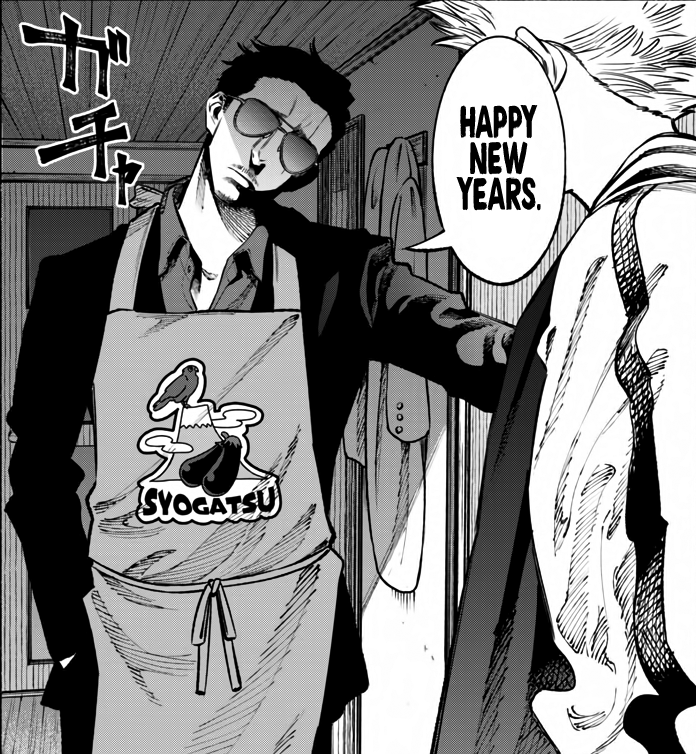 Gokushufudou has a really entertaining plot. It presents to us these really funny scenarios of this intimidating-looking man doing daily things. Tatsu even hangs out with other housewives like he is one himself! It is absolutely hilarious that a scary-looking man like himself not only wears aprons with pandas and stuff, but he even posts his breakfast and stuff online like many people like to do.
Characters
I wish we had a little more character development in Gokushufudou but, it's fine. Because of the episodic nature of the manga, the slow pacing of the character development doesn't hurt. Tatsu himself aside, the side characters as well are pretty well done. They add a lot of flavor to this series and you know, it wouldn't be as funny as it is without his old pals going "is that Tatsu?!"

Art
The art is pretty amazing too, the author doesn't spare any effort in making Tatsu look like an absolute badass. I love the cinematic moments in this manga. You'd see a closeup of Tatsu looking really serious, then you'd find out that he's just shopping as the panel zooms out. It is done in a different way every time and it's funny as hell.
Why should you read Gokushufudou?
Quick pointers on why you should check out this manga:
Awesome art
Entertaining plot
Really funny
For this once, actually better than the anime
Conclusion
That is all for now. Let me know what you think in the comments below. Gokushufudou is really entertaining and more people should check out this manga. With that said, I will take my leave here. See ya!!