My New Devil Wife, Manga Recommendation!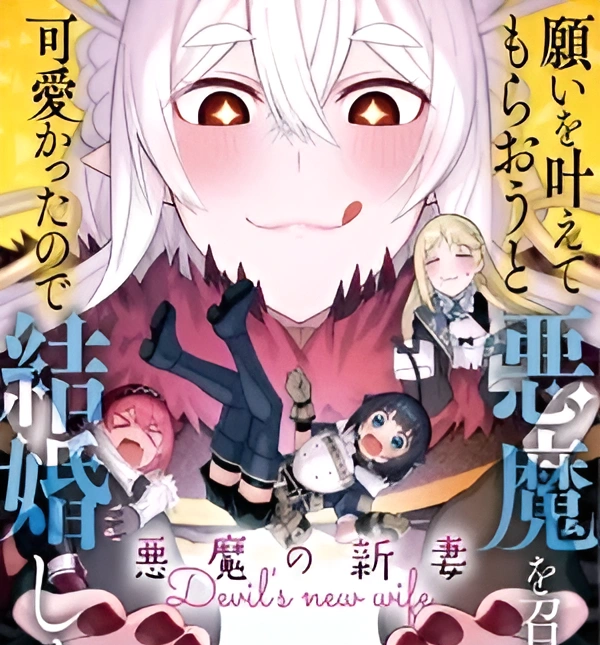 This is one series whose full name I don't dare put in the title because that will really mess my SEO up. Even with this short version of the title, I had to cut out the "of the Week" part from the title to maintain the proper length. Well, that is not what we are here to talk about today. We are talking about the manga I Summoned the Devil to Grant Me a Wish, but I Married Her Instead Since She Was Adorable: My New Devil Wife today. Yes, I actually copy-pasted the full title since it is annoyingly long.
So welcome back to another edition of our manga recommendation series! This week we are talking about My New Devil Wife. That is what I will refer to this as manga for the sake of my sanity and this article's length. A friend recommended this manga to me and man, despite initial skepticism, I ended up enjoying the hell out of this manga. So let's get started.

Introduction
My New Devil Wife is written by Shiryu and illustrated by Tonarikeru. The manga started its serialization on 11th June 2020 in the Comic Earth Star magazine. It is currently ongoing of course. And chapter 22 is the latest chapter at the time of writing. It is a monthly publication so, it is fairly easy to binge-read if you want to.
My New Devil Wife is the peak of a "why do I even like this" kind of manga for me. The plot is nothing special, it is just cute wholesome fun and that to me is very enjoyable. If you are looking for a deep plot or something like that, this manga is not for you. If you just want to relax and read some wholesome romance though, you are very much in the right place.

Plot
My New Devil Wife follows Theo, an orphan adventurer who is often made fun of for being weak. One day, he decides to summon a devil to grant him strength. But as it turns out, the devil is actually a cute girl and he immediately falls in love with her and asks her to marry him. The devil, Helvi, charmed by his cuteness accepts. Thus begins their "pure" newlywed life.
As I said, the plot is not that special. But, My New Devil Wife doesn't need a plot. It is a fantasy rom-com/SOL type manga, it knows its target audience well. And it caters to the target audience really well. Helvi and Theo's relationship is the main focus of the series and the plot does a good enough job of setting it up.

Characters
Let me take a moment to say, Helvi is adorable. I know, that is the whole point of My New Devil Wife, it even says so in the full title. But still, she is adorable. Her attack and defense stats sum up to a total of zero, much like Lilith or Nazuna. She goes on the offensive and then shies away herself. She and Theo have gotten a fair bit of character development too. I love the fact that the series just exists to showcase their relationship as Theo literally confesses in the first 3 seconds of seeing Helvi.
Art
The art is fairly decent. My only qualm is Theo's character design but, I think the author picked the design on purpose. Aside from that though, My New Devil Wife has fairly good art, nothing too crazy but definitely good enough to support the series.

Why should you read My New Devil Wife?
Quick pointers on why you should check out this manga:
Really wholesome
Really funny
Great characters
Helvi
Conclusion
Well, that is all for now. Let me know what you guys think in the comments. Personally, I ended up enjoying My New Devil Wife way more than I thought I would. I really look forward to the next chapter. With that said, I will take my leave here. I'll go and play some Genshin now, lots of stuff to do. See ya!!