Nisekoi, Manga Recommendation of the Week!
I'm so sick of this fake love, fake love, fake love

I'm so sorry but it's fake love, fake love, fake love
That is literally the song that plays in my mind every time I think about this manga. No, it does not relate to the song, but that is what this manga's name means. Yes, today we are talking about Nisekoi or Fake/False Love however, you want to translate it. I read this manga on a friend's recommendation and I have to say I am glad I did. I still legit laugh because of recalling scenes from this manga.
So welcome back to another edition of our manga recommendation series. Today we are talking about Nisekoi. I love this manga, I really do. It is funny as hell, the plot itself is really goofy. But at the same time, there is an element of suspense in this manga that remains until the end. So let's get right into it.

Introduction
Nisekoi is a rom-com manga written and illustrated by Naoshi Komi. The manga was serialized in the Weekly Shonen Jump magazine from November 2011 to August 2016. It is 25 volumes or 223 chapters long, about the average length for a shonen. It has 2 seasons of anime adaptations as well but those don't completely cover the manga. Still, the anime is pretty good so you can check it out.
Plot
The plot follows Ichijou Raku, who gave the key to his locket to his childhood sweetheart, promising to marry her when they grow up. In the present day, Raku is a high school student who has a crush on Kosaki and wishes that she's the one who carries the key. Things get complicated when Raku is forced to be in a relationship with Chitoge because of their family matters. Things just get more and more complicated from there as it appears that all girls around Raku are connected to the locket in some way.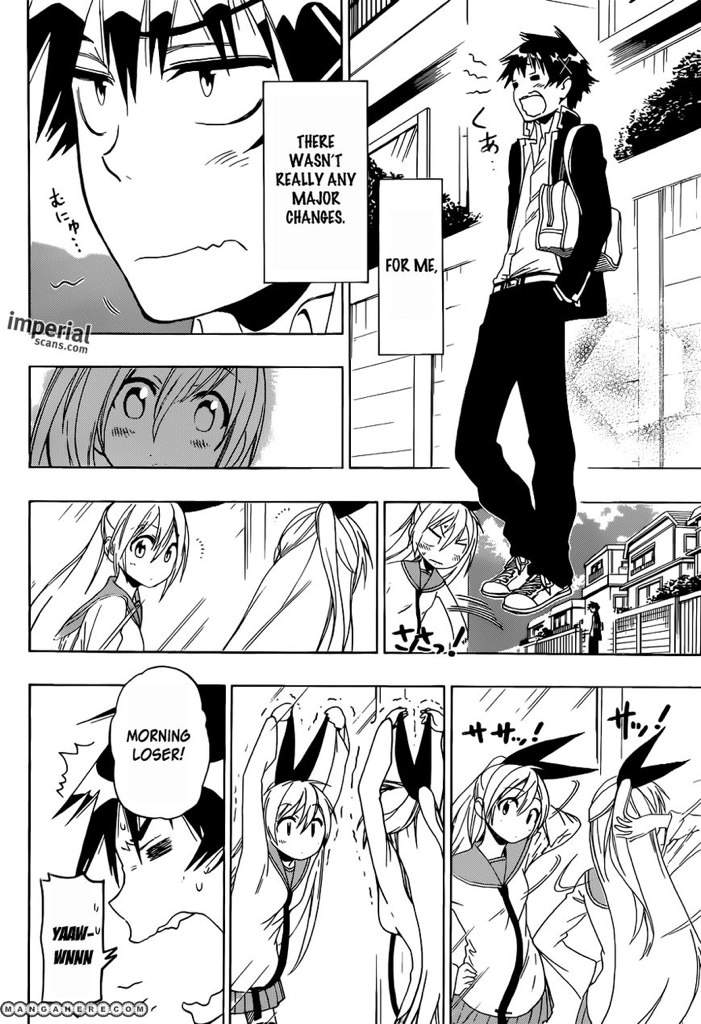 Yeah, it is pretty complicated, I know. Nichijou is one of the more plot-heavy rom-coms. I don't think I've seen another rom-com like this where the story keeps spilling in deeper and deeper. The story is wild at times but that is what makes this series good in my opinion.
Characters
Again, Nisekoi has a lot of characters, and Raku and the girls play a very important part in the story. Of course, the story is partially based on finding out what happened 10 years ago. That one incident connects so many characters, it is kind of impressive in a way, really. The character development front is also pretty solid as well, especially when it comes to Raku.
Art
Nisekoi has a pretty cool art style. I really like the character designs and stuff, it is pretty different from usual. The way the author uses sharp lines and the way he draws hair. Maybe it's just me, I am not sure. Still, though, the art is definitely cool.
Why should you read Nisekoi?
Quick pointers on why you should check out this manga:
Cool plot
Great characters
Well-paced
Good art
Conclusion
Well, that is all for now. Nisekoi is a pretty cool manga and you should check it out, it is really interesting. Let me know what you know in the comments. I will take my leave here, I have an AI to chat to. See ya!!