Eden, Manga Recommendation of the Week!
I picked up this manga recently; a friend recommended it to me. And wow was this amazing. It was completely different than what I expected and it just took me for a ride. Eden is a short manga but it gives you just such a good story and characters that you are sure to enjoy it. There are many post-apocalyptic world mangas but few of them provide a story as believable as this.
So welcome back to another edition of our manga recommendation series. This week we are talking about Eden: It's an Endless World! Hands down one of the best sci-fi suspense mangas out there. May not be for everyone because of the dark and gory parts of the story, but you should at least give it chance. So let's get right into it.

Introduction
Eden is written and illustrated by Endo Hiroki. It is a sci-fi suspense seinen manga set in a post-apocalyptic world. It is 127 chapters/18 volumes long and was originally serialized in the Afternoon magazine from September 1997 to June 2008. What makes this manga so good for me is the fact that it builds a very believable world. It is dark and gloomy but everything in this manga has a sort of unsettling touch of reality in it. Let's go into more detail on that.
Plot
In Eden, a deadly pandemic spreads and kills around 15% of the total global population; crippling many more. A secret organization named Propater takes this chance and takes over most of the world. A boy and a girl kept in an abandoned virology research facility are Propater but they manage to escape. These kids are immune to the virus. 20 years later, the kid is the biggest drug lord in the world and is at constant war with Propater.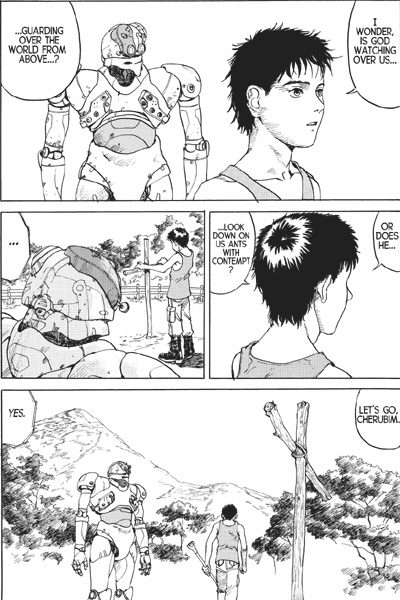 Yes, I know the pandemic part of the plot feels eerily similar to what happened during the last 2-3 years. Anyhow though, as I said, the thing that makes Eden great is that it's quite grounded in reality. There is some crazy stuff in it but the author makes it believable. Now, aside from that, the plot itself is quite well-paced and it is full of awesome twists and turns. It always keeps you on edge, making you want to read more and more.
Characters
Again, Eden has some super well-written characters. Even the side characters are pretty well written. It is so good in fact, that some side characters form the base for the various sub-plots present in Eden. My favorites have to be Elijah and Kenji though. They're both crazy in their own rights and what they're trying todo makes complete sense given their situations. There's also Maya, Enoa, and all, the list goes on and on. So many good characters to talk about.

Art
Being a seinen, Eden goes for the realistic style in the art department. That really suits its plot and helps in driving the whole "real" type feel the author is going for. The character designs are quite detailed and the environment details are frankly astounding. The author knew what he was doing and this art style is just perfect for the story this manga is telling.
Why should you read Eden?
Quick pointers on why you should check out this anime:
Awesome plot
Well-paced
Not that long
Great art
Great characters
Conclusion
Well, that is all for now. Let me know what you guys think in the comments. I haven't finished Eden yet, only about 10 more chapters to go. So I'll take my leave here and finish those up. See ya!!