Anime Recommendation of the Week – Flying Witch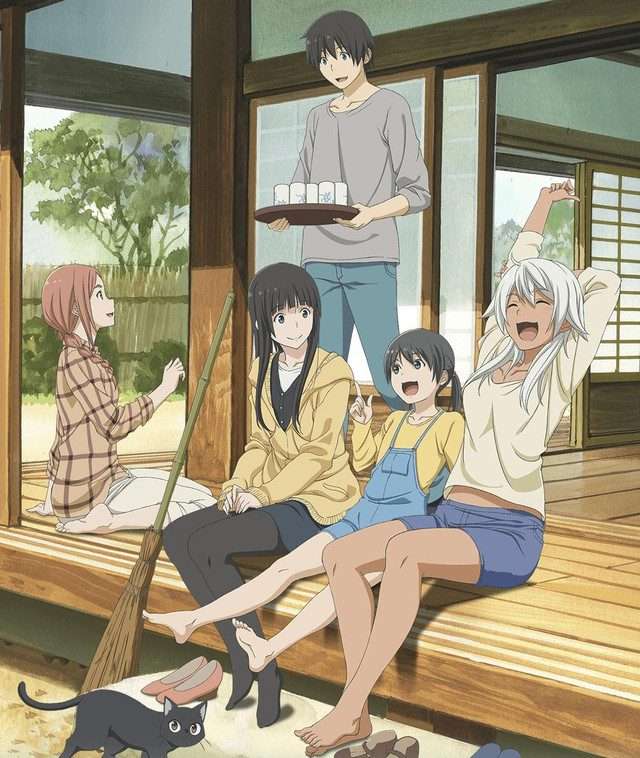 I… I am really not sure why this anime is so good. Like, it is rather a cliche anime and yet, it brings a smile to your face every time you watch it. I guess it is the good wholesome fun and cute art style that makes this anime good. Seriously, Flying Witch is so chill; it is literally just the everyday chill life of a "witch" and yet, it is so much fun to watch.
So welcome back to another edition of our weekly anime recommendation series. This week we are talking about Flying Witch. And it is a very wholesome short, simple, and sweet anime. It is bound to make you smile. So let's get into more details.

Introduction
Flying Witch is based on the ongoing manga of the same name by Ishizuka Chihiro. The anime is 12 episodes long and it aired back in the spring season of 2016. The anime is made by JC Staff, of course, the only people who'd give a chance to manga like this besides KyoAni. It is a cute little SOL that is just fun to watch.
Flying Witch doesn't really have a detailed plot or anything. It is a pure SOL comedy experience with a cute art style and some interesting things. Still, I consider it quirky and fun enough to warrant at least a watch or two. Simply because it is plain old fun to watch and it is very relaxing. Again, one of those anime you'd like to watch after a long day at school, college, or the office.

Plot
Well, there is not much in terms of plot in Flying Witch. A witch is supposed to leave her home and live independently after the age of 15. So, Kowata Makoto being a witch follows that tradition and decides to live with her second cousins. Being an SOL, the series follows her everyday life and all the weird encounters she has.
That is literally all you need to know about Flying Witch. It is pretty episode anime so you can just pick up a random episode and enjoy it. The anime is pretty well-paced and balanced. Also, you'd be surprised how much explanation regarding the witch stuff and customs are provided in this anime. That is not the point of the series though… well, technically.

Characters
Flying Witch has some truly memorable and loveable characters. Makoto herself is just so cute… that is the best word I can use to describe her. She is so clueless at times, it is just adorable to watch. I love how she's not concerned with keeping her identity as a witch secret at all. Aside from her, Kei is also a great character. He is truly a nice and caring guy; his performance is so good too. I really like it for some odd reason.
Animations and Soundtracks
The animations are pretty average. The art style though, is what I really like. The art style is very fitting for the laid-back tone of the anime. It is very cute and bright; just like the anime. It is simple but works really well for the anime and sometimes it makes Makoto look even more adorable. The soundtracks on the other hand aren't that memorable; at least in my opinion. I barely remember the opening or ending themes of the series.

Why should you watch Flying Witch?
Quick pointers on why you should check out this anime:
Simple and Short
Really funny
Wholesome af
Cute art style and characters
Conclusion
That is all for now. Let me know what you guys think in the comments. Flying Witch is a great anime to revisit while we wait for the summer season to begin. Well, I will take my leave here for now. See ya!!