Kaguya-Sama Season 3 Review – Full of Surprises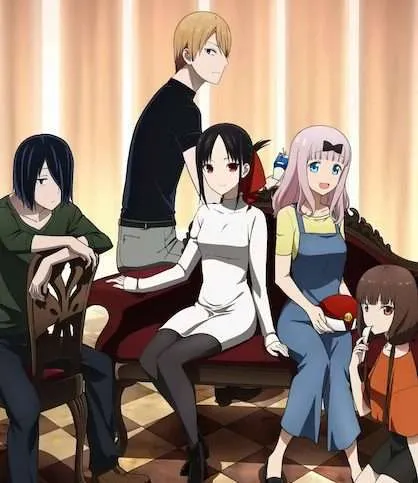 I wanted to wait till episode 12 came out before writing this review. But since, summer is right around the corner I had to make some adjustments. And you know, my views on this season won't change no matter what happens in the last episode. So as I said in the title, this season of Kaguya-sama has been full of surprises. It turned out to be much better than I ever imagined.
You think season 2 was good? Man, you've seen nothing yet. Of course, we have the signature Kaguya-sama comedy and all but, the serious parts in this season were just as good. They had a certain intensity only a few other romantic anime can match. Well, welcome to my Kaguya-sama Season 3 review. It will be tough but, everything will be spoiler-free. So let's start.

Plot
Kaguya-sama Season 3 picks off where season 2 left off. Kaguya and Miyuki still have their "fight" going on. They still try to think of all sorts of tricks and stuff to make each other confess. Their feelings for each other have also grown much stronger in the past 2 years they've known each other. And it is finally the school festival arc in this season only, this school festival arc is very different from how the usual rom-com animes handle it.
There is a lot more to Kaguya-sama Season 3 than just all that of course. I just cannot disclose it because well, spoiler-territory. This season is a whole ass roller coaster ride so be prepared while going in. The 2nd half of the season is especially well-paced and directed. I cannot wait to see how this season ends. The cliffhanger at the end of episode 11 was pretty dangerous.

Characters
You know how Kaguya-sama goes. We didn't really get any new notable characters but, in exchange the development for existing ones sky-rocketed. Again I can't disclose all details, but Kaguya and Shirogane grow a lot during this season. Their character development alone makes this season worth the watch in my opinion. Then, Ishigami also gets some more character development for himself. Man, the character writing in this season was top-notch.
Animations and Soundtracks
Kaguya-sama has always had really good animations. I really like the colorful art style too. The animations are really good and the animators also had fun while making this for sure. They included a lot of different references to games and other popular stuff in the anime that weren't in the manga. This makes the anime more fun. The soundtracks are excellently handled as well; the opening theme was a banger once again. And that rap episode was just epic. Props to the VAs too for rapping so good.

Conclusion
Well, here are my final scores for Kaguya-sama Season 3:
Plot – 9/10
Characters – 10/10
Animations – 9/10
Soundtracks – 9/10
Enjoyment – 10/10
Episode 12 come out soon!! – 10/10
Overall – 9/10
Well, those were my honest views on Kaguya-sama Season 3. This season was a blast to watch and I really enjoyed it. Let me know what you guys think in the comments. I will take my leave here for now. See ya!!