Copic Alternatives – Budget Alternatives to Copics!!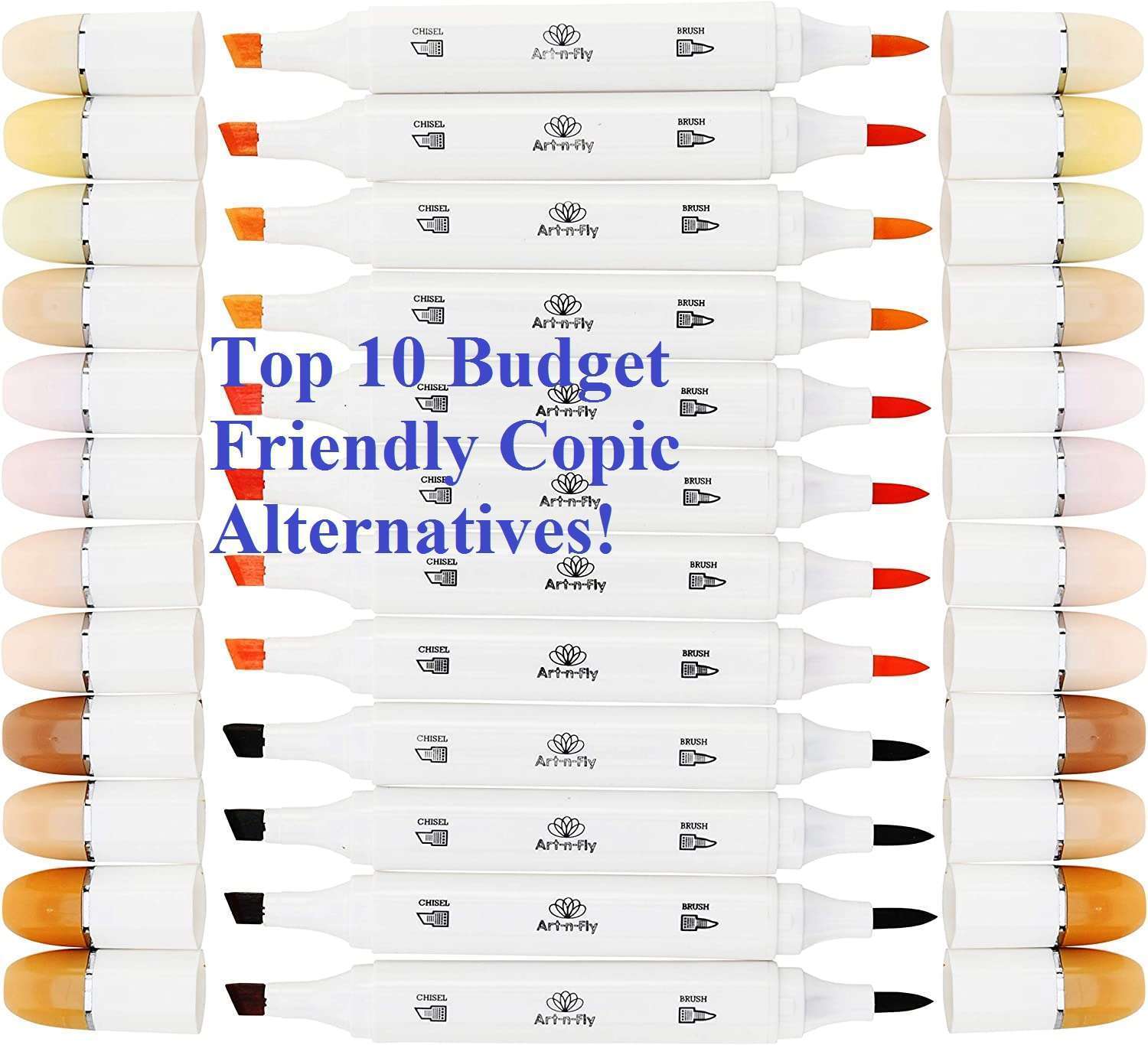 Key takeaways from Budget Copic Alternatives:
Top 10 marker sets that can serve as alternatives if you cannot afford copics
Pros and cons of each set listed
---
As we all know, Copic markers are the gold standard for alcohol-based markers. But, copics are really pricey. A good Copic set will cost you more than 100 bucks and it still won't have all the colors. Well, that is the price you pay for quality, I know but not everyone can afford them. Especially if you're just breaking into art, you probably don't have enough of a budget to buy Copics right off the bat.
So welcome back to another art supplies article. Today we are taking a look at our picks for the top 10 budget Copic Alternatives! As always, the shopping links will be Amazon based. Right below the subheading will be prices and the link for the mentioned set. Alternatively, clicking the images will also take you to the shopping page. The list is in random order. With that said, let's get started!
Winsor and Newton Promarkers
price: 65.71$, buy here
I know, we are starting off a bit costly but, the biggest advantage of Winsor and Newton markers is that they last a very long time. They come with a big barrel and as a result, they have a lot more ink than your usual markers. They don't blend as well as copics but they produce a more solid color than your usual Copic colors.

Prismacolor Markers
price:
25.70, buy here
So Prismacolor Markers are quite cheap and they offer really good quality for the price. You get rich colors with some really good quality ink and large tips. Now sure, blending colors with there will take a bit more work than other options but, you get a decent-sized barrel with good quality at a low price so yeah, there will be some cons. I have heard complaints about the nibs being worn down easily, so be careful of that.

Alchilalart Markers
price: 29.99$, buy here
So these have a really wide range of colors. You're getting 80 markers for 30 bucks and there is a 100 pieces version too. Yes, the quality does suffer a bit but if you want color variety, this is the set for you. Lots of colors on a small budget and all the markers are dual-tipped and alcohol-based. Definitely one of the better Copic Alternatives.

Touch Markers
price: 28.99$, buy here
Just like the previous entry, Touch offers a lot of variety but the biggest advantage of these is that they have replaceable tips and refillable inks. I have seen this praised for gips and the ink flow. So they are really good markers, they come in a lot of colors and with a really cool carry case and they are really budget-friendly.

Le Plume Markers
price: 22.59$, buy here
The Le Plume series by Uchida is one of the most well-known Copic Alternatives. They are known for their colors and blending capability, just like copics. Now while these are cheaper than copics, they are not refillable. Still, though, they also offer a colorless blender just like Copics which makes color blending infinitely easier. These are also water based so a bit safe, I guess.

Shuttle Art Markers
price: 23.99$, buy here
Ah yes, Shuttle Art. Amazon will throw a lot of Shuttle Art stuff at you if you're looking for alcohol-based markers. Turns out, they are actually pretty good and they're in the right price range too. They offer good quality ink, good packaging, and a lot of color options all at an affordable price. The only main complaint I see with these is that they are a bit streaky but, that's about it.

Arteza Everblend Markers
price: 57.99$, buy here
I personally love these. The set I wanted to list is unfortunately unavailable right now, so I am listing this set instead. Arteza Everblend is the definition of Copics at home in my opinion. They offer a lot of colors, really good blending properties, and are really easy to use. Now Arteza does have one problem, and that is the lack of lighter shades in their offerings. But these are really good Copic Alternatives.

Caliart Markers
price: 19.00$, buy here
Once again, the set I wanted to cover was unavailable so I have to make do with this. Please, if they are available, go with the alcohol-based ones cause they are far superior to this pack. Caliart markers are known for their waterproof features. Yes, not only do these blend easily but also their ink is quite resistant to water. Add dual tips to that and you get a really good deal for a nice affordable price.

Dobo&Shobo Markers
price: 24.99$, buy here
I love that name. This is the first time I have personally seen these markers but their reviews are quite favorable and they have been selling well so I thought it was fitting to include them here. Again, I have to praise the variety on offer here. 80 colors under 25 bucks is always good and you get a good zipper pouch along with it. So a pretty good deal all things considered.

Art-n-Fly Markers
price: 32.97, buy here
Art-n-Fly makes some of the best Copic Alternatives in the market. Their markers are really desirable because not only do they have vibrant colors and good blending properties, but they also have refillable ink and replaceable tips. Making them really good for long time investment. Yes, they are a bit costlier than the previously listed products but, still cheaper than Copics.

Conclusion
But yeah, that does it for now. I know it was a long article so thank you for reading till the end. Hope this helped you find something you were looking for. Some sets I wanted to list were not available, so I had to make do with the next best thing. If you are still not convinced about markers, maybe you should try painting or colored pencils. But those were my picks for the Top 10 Copic Alternatives. And yeah, I will take my leave here. See ya!!